Bangladesh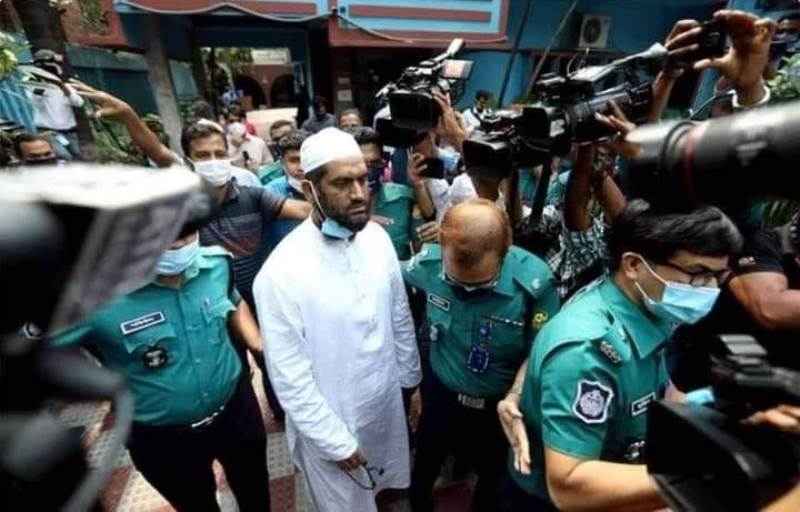 Collected
Police will seek a 7-day remand in 17 cases against Mamunul
Dhaka, April 19: It is learned that there are 17 cases against the joint secretary general of Hefazat-e-Islam Bangladesh Mamunul Haque in different police stations of the capital Dhaka alone. Meanwhile, a local resident filed a case against Mamunul at Mohammadpur police station alleging beatings, serious injuries with intent to kill, theft, intimidation and intentional disturbance in religious activities. The police will apply for a seven-day remand in the case. Police will hand him over to the court on Monday (April 19).
According to DMP headquarters, Mamunul Haque is the accused in eight cases under investigation in Motijheel division of DB, two cases under investigation in Lalbagh division and one case under investigation in Tejgaon division. Besides, his name is in one case under investigation in Motijheel police station and four cases under investigation in Paltan police station. 15 out of 17 cases have been registered on May 5, 2013 after the Hifazat violence at Shapla Chattar in Motijheel. The plaintiff in those 15 cases is the police. Another of the 16 cases was recently filed with the Paltan Police Station by a Juba League leader.
The case was filed against Mamunul after Hofjat's chase and clash with police, Chhatra League and Awami League in the Baitul Mukarram area of ​​the National Mosque. Another is the case of Mohammadpur police station.
The Tejgaon division of the Dhaka Metropolitan Police (DMP) arrested Mamunul from Jamia Rahmania Arabia Madrasa in Mohammadpur around 1:15 pm on Sunday (April 18). After his arrest, he was taken to the office of the Deputy Commissioner of Police of Tejgaon Division.
There, Deputy Commissioner (DC) Harun-ur-Rashid said Maulana Mamunul Haque, joint secretary general of Hefazat-e-Islam, was arrested from Jamia Rahmania Madrasa in Mohammadpur after being under surveillance for several days.
Haroon Aur Rashid said, "There are many cases against Mamunul, including planned assault on police, vandalism of police station and registrar's office. These cases were being investigated. We kept him under surveillance for a long time, as well as investigating these cases. He was arrested after receiving evidence of his apparent involvement in the investigation."
From there he was taken to Tejgaon police station for questioning at around 2pm. According to the latest information, he is there.
Asked at night, DC Harun Aur Rashid said, "We asked him about his three marriages. He initially admitted it. However, he could not give a satisfactory answer."