Bangladesh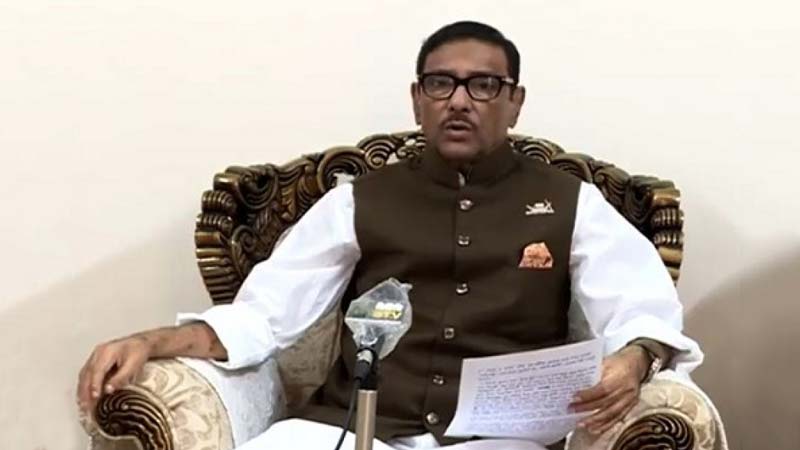 File Picture
Politics of revenge not conducive to democracy: Obaidul Quader
Dhaka, November 21: Awami League General Secretary and Minister for Road Transport and Bridges Obaidul Quader said the politics of revenge is not conducive to democracy, the Awami League never indulges in politics of revenge.
He said this while inaugurating BRTC's double decker bus service on Mirpur-Narayanganj route on Saturday morning.
The general secretary of the Awami League said, 'The Awami League is the most tolerant political party in this country. The Awami League has seen the brutality of August 15, 1975, the inhumanity of November 3, the grenade attack and 20 attempts to assassinate Sheikh Hasina. The Awami League never does politics of revenge. The politics of revenge is not conducive to democracy."
He said democracy is an evolving process, democracy develops with the participation and care of all political parties. But sadly, even though the BNP talks about democracy, it is far from the role it needs to take democracy forward.
Obaidul Quader said, BNP took part in the election to question the electoral process. "On the one hand, the BNP is talking about democracy and on the other hand, it is trying to question the election process," he said.
He called the BNP the father of terrorism and trashed it for promoting conspiracy and murder in the country. "The Awami League was, is and will be with the people as an organization of the people."
Obaidul Quader said it is BNP's nature to lie while responding to the allegations of the BNP leaders that the government is blocking the opposition to stop the criticism.
He said the Awami League is not afraid of criticism, adding that the Awami League has the courage to learn from constructive criticism.
He also wished good health to BNP Secretary General Mirza Fakhrul Islam Alamgir.