Bangladesh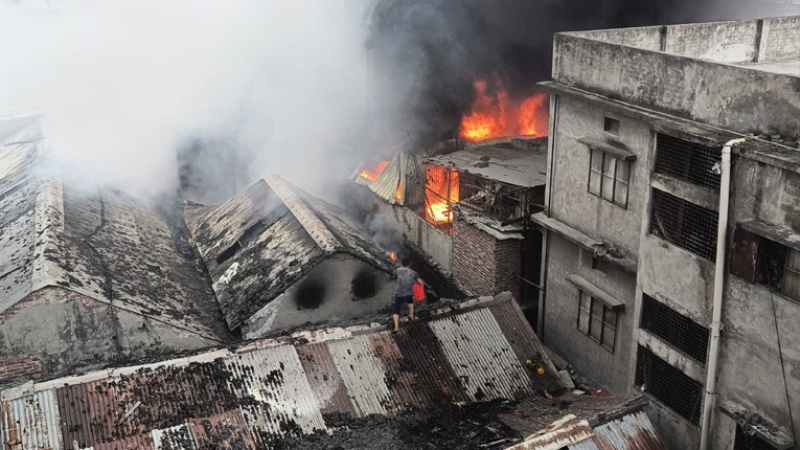 Collected
Polythene factory fire in Chawkbazar kills at least six
Dhaka, August 15: A fire broke out in a polythene factory in Devidwarghat area of Chawkbazar in the capital. At least six people were killed.
Shahjahan Shikder, media wing officer of Fire Service and Civil Defense, said that the fire service received information about the fire at around 12 noon. Within 9 minutes, the first fire service unit reached the spot and started extinguishing the fire. A total of 10 units brought the fire under control after two hours and 20 minutes. The fire service had to speed up to put out the fire due to the local and enthusiastic crowd. The cause of the fire was not immediately known.
The fire broke out around 12 noon on Monday (August 15). After that, the fire came under control at 2:20 minutes, said Khalida Yasmin, the duty officer of the fire service. He said that there was a fire in a polythene factory at Devidwar Ghat in Chawkbazar Kamalbagh. Later the fire also spread to a restaurant. Six fire service units and four more units were dispatched at 12:90 after receiving the report of the fire at 12:00 noon.
Meanwhile, the fire service has to gain momentum to put out the fire due to the local and enthusiastic crowd. The fire service workers miked and said, 'Please move away, go away. Let us put out the fire.' Even then, the people's confusion is not reducing there. Some are standing watching the fire, some are making videos, some are live on Facebook.
Later, the bodies of six people were recovered from the plastic factory and the building that caught fire.
War House Inspector of Fire Service Anwarul Islam gave this information on Monday (August 15) around 5:30 p.m.
Bajlur Rashid, Deputy Assistant Director of Fire Service, said that five of the recovered bodies could not be identified. One's face has been identified.
He said, if there is a good search up to the fourth floor, it will be known whether there is anyone else or not. So far we have recovered six bodies. The bodies were sent to Midfort Hospital. Relatives should be identified from there.