Bangladesh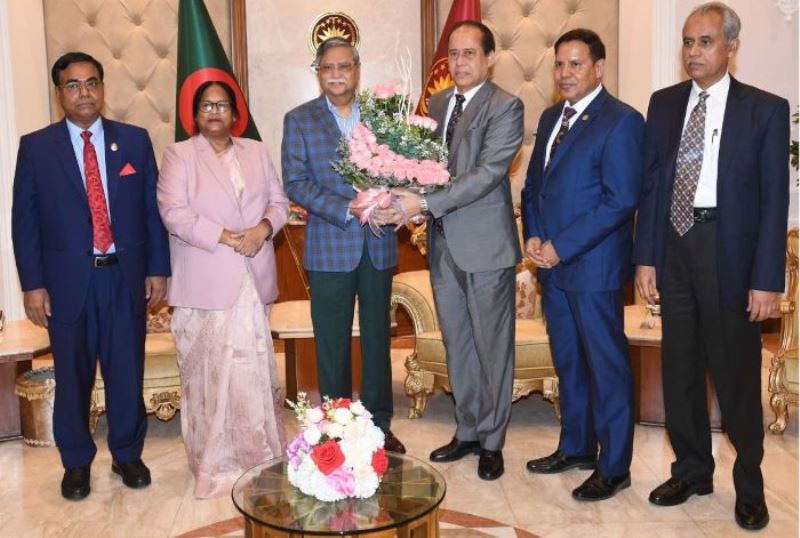 Photo: PID
President calls upon political parties and candidates to come forward along with EC for fair elections
Dhaka, June 20: President Md. Shahabuddin called upon the Election Commission as well as the political parties and candidates to come forward to make the election fair and participatory.
He made this call when a five-member delegation led by Chief Election Commissioner Kazi Habibul Awal paid a courtesy call on the President at Bangabhaban on Monday. Later, President's Press Secretary Zainal Abedin briefed the journalists.
President Sahabuddin said, "Elections are very important in the democratic process. For the sake of fair elections, all cooperation including law and order will be given to ensure a peaceful environment during the polls."
He directed to identify vulnerable areas and take necessary steps to make polling impartial and participatory.
He expressed hope that the current Election Commission will be able to complete all the elections in the country in a fair and beautiful manner.
During the meeting, the President was formally congratulated by the Election Commission.
Chief Election Commissioner Habibul Ayyal said that since taking charge, he has been making every effort to make all elections, including the local government, neutral and peaceful.
He said that EVMs are being used successfully in elections except for some technical errors. Besides, the cooperation of the executive department is available.
Stating that the boundaries have already been finalized, the Chief Election Commissioner also said that the process of finalizing polling stations is ongoing. He sought the cooperation and direction of the President to complete the upcoming National Assembly elections in a fair and peaceful manner.
Commissioner Secretary Commissioner and Secretary Three Election Commissioners - Retired Brigadier General Md. Ahsan Habib Khan, Begum Rasheda Sultana and Md. Alamgir and Election Commission Secretariat Secretary Jahangir Alam were present. Secretaries of the President were also present at this time.