Bangladesh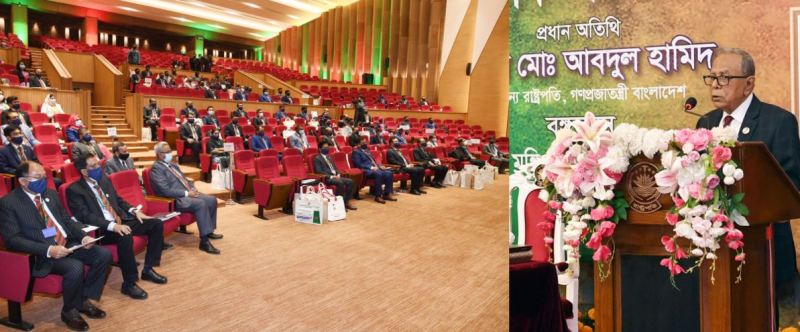 Photo: PID
President directs DCs to build culture of transparency and accountability everywhere
Own Correspondent, Dhaka, January 19: President Md. Abdul Hamid has directed the Divisional Commissioners and Deputy Commissioners to build a culture of transparency and accountability at every level of field administration.
He made the remarks while virtually attending the much-awaited three-day annual DC Conference-2022 at the Osmani Memorial Auditorium on Tuesday evening.
President Hamid said, "Corruption is the biggest obstacle to development. Sustainable development is being hampered by corruption. Therefore, a culture of transparency and accountability must be built at every level of field administration. It is even more important to ensure that there is no misuse of power."
The President consciously urged to maintain the distinction of responsibility and power in the workplace.
Addressing the Deputy Commissioners, Hamid said that the DC Conference is an important forum to discuss the challenges faced by the administration at the field level and the steps taken to provide civic services.
He said, "You are acting as the coordinator and supervisor of the various activities of the government at the field level, which is playing an important role in the development of the country as a whole."
Advising the people to put the interests of the country and the people above all, the President said, "We and you are the servants of the people. Therefore, you will fulfill your responsibilities as the servants of the people. You will deliver government services to the doorsteps of the people."
Noting that serving the people is not a matter of kindness or generosity, the President said, "We must remember that our family lives on the money of the people. Therefore, it is the right of the people to get services."
He mentioned that social security programs are an effective means of alleviating poverty and establishing social justice.
Hamid said, "I firmly believe that by 2030, Bangladesh will be able to achieve all the targets of the SDG and by 2041 it will become a country with a developed economy."
He reverently remembered the greatest Bengali of all time, the great architect of Bangladesh, all the heroic freedom fighters, the Father of the Nation Bangabandhu Sheikh Mujibur, the four national leaders and the immortal martyrs, for whose heroism and self-sacrifice we have achieved an independent sovereign Bangladesh.