Bangladesh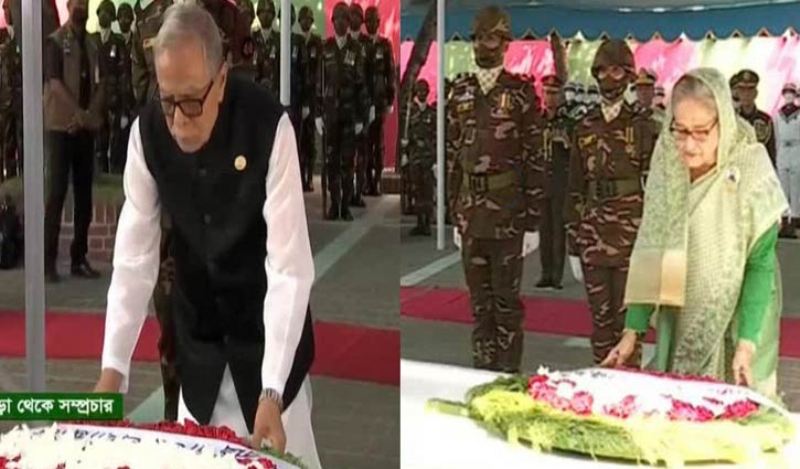 PID
President Hamid and Prime Minister Hasina pay respect at Bangabandhu's mausoleum in Tungipara
Dhaka, March 17: President Md Abdul Hamid and Prime Minister Sheikh Hasina paid their respects at the tomb of Father of the Nation Bangabandhu Sheikh Mujibur Rahman. On the occasion of Bangabandhu's 103rd birth anniversary and 'National Children's Day', they paid deep respect to the father of the nation.
On Friday (March 17) at 10:30 in the morning, the President and the Prime Minister paid their respects by placing wreaths at Bangabandhu's tomb in Tungipara, Gopalganj. First, President Abdul Hamid laid wreath at Bangabandhu's shrine. After this, Prime Minister Sheikh Hasina placed a wreath. After placing the wreath, they stood there in silence for a while, paying deep respect to the memory of the Father of the Nation. Then a well-equipped smart team of Bangladesh Army, Navy and Air Force provided the Guard of Honour.
Later, Awami League president Sheikh Hasina along with senior party leaders laid wreaths at Bangabandhu's shrine on behalf of the party.
President's wife Rashida Khanam along with her son Member of Parliament Rezwan Ahmad Taufiq and the Prime Minister and members of her family paid tribute to Bangabandhu separately by laying wreaths.
Abdul Hamid and Sheikh Hasina recited the Fateha and joined the prayers seeking forgiveness for the departed souls of Bangabandhu and other brave martyrs who were victims of the brutal massacre of August 15. Cabinet members, advisors to the Prime Minister, members of parliament and senior leaders of Bangladesh Awami League were present on this occasion.
The President also signed the visitor's book kept in the premises of the Father of the Nation's Mausoleum. Earlier, Prime Minister Sheikh Hasina welcomed President Abdul Hamid when he reached the tomb premises.
This morning, the Prime Minister laid a wreath at the portrait of the Father of the Nation kept in front of the Bangabandhu Memorial Museum at Dhanmondi Road No. 32 in the capital. Later reach Tungipara by road at 10 am.
For several years, Bangabandhu's birthday has been celebrated as 'National Children's Day' across the country. On this day in 1920, Bangabandhu Sheikh Mujibur Rahman, the undisputed leader of the Bengali nation, the great architect of independent Bangladesh and the greatest father of the Bengali nation of all time, was born in a noble Muslim family in Tungipara village of Gopalganj.