Bangladesh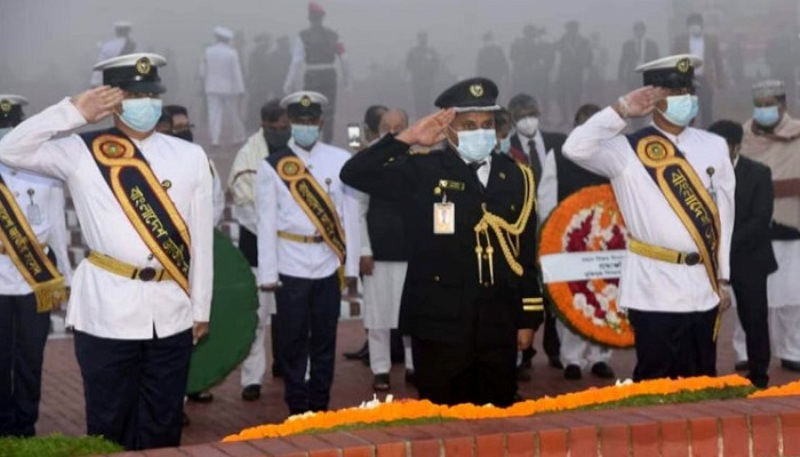 Collected
President Hamid, Prime Minister Hasina pay tributes at the National Memorial
Dhaka, December 16: Wreaths were laid on beahlf of President Md. Abdul Hamid and Prime Minister Sheikh Hasina at the National Memorial in Savar in honor of the heroic martyrs who sacrificed their lives in the Liberation War, on the Great Victory Day. At 6:34 a.m. on Wednesday (December 16), respects were paid on behalf of the President and the Prime Minister.
On behalf of the President, his Military Secretary Major General SM Shamim Uz Zaman and on behalf of the Prime Minister his Military Secretary Major General Naqib Ahmad Chowdhury laid a wreath at the Shaheed Bedi.
A smart contingent of the three forces saluted in a military manner. In memory of the martyrs a sad tune was played on the bugle.
This year, on behalf of the President and the Prime Minister, their military secretaries paid their respects at the National Memorial due to the coronavirus pandemic. After that, various political parties, social and cultural organizations, important personalities of the state and people from all walks of life paid homage to the martyrs.
December 16 is the most glorious day in the life of the Bengali nation, the day of liberation from the shackles of subjugation. People all over the country today celebrate the day with joy and sorrow.
The fearless heroic children who sacrificed their lives for freedom are remembered with deep sorrow and reverence. However, due to the coronavirus situation, hygiene rules are being observed at the national level to celebrate Victory Day.