Bangladesh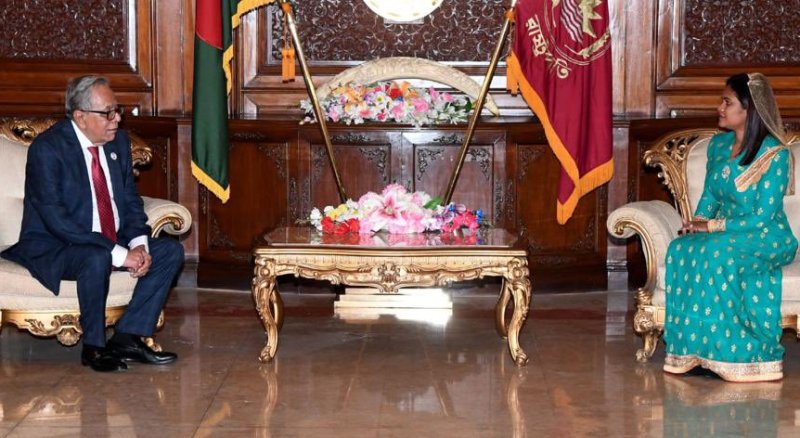 twitter.com/abdulla_shahid
President Hamid urges Bangladesh and Maldives to play a joint role in tackling climate change
Dhaka, December 30: President Md. Abdul Hamid has called on the Maldives to play a joint role with Bangladesh in the world forum on climate change.
He made the remarks while receiving the credentials of newly appointed Maldivian High Commissioner to Bangladesh, Shiruzimath Sameer, at the Bangabhaban on Tuesday (December 29).
Welcoming the newly appointed High Commissioner, the President emphasized on exchanging public-private visits between the two countries, saying Bangladesh and the Maldives are high-risk countries due to climate change. To solve this problem, joint efforts should be taken in various international forums.
President Abdul Hamid said that Maldives is one of the friendly countries of Bangladesh. From the very beginning, the bilateral relations between the two countries have been excellent, which has expanded over time in various fields, including trade and investment.
He said there are many high quality institutions in Bangladesh in the field of medical, technical, technology and higher education. Maldivian students can take admission in these institutions.
The President called upon the newly appointed High Commissioner to take necessary steps in this regard.
Abdul Hamid said Bangladesh produces various products of international standard including readymade garments, medicines, ceramics, jute and jute products, leather and leather products, plastic products. The Maldives can import these products from Bangladesh, which will help maintain the trade balance between the two countries as well as increase bilateral trade manifold.
The newly appointed High Commissioner of Maldives expressed her gratitude to the Government and people of Bangladesh for providing various assistance including sending medical teams to the Maldives. She sought the full cooperation of the President during her tenure.
Secretary to the President's Office Sampad Barua, Military Secretary Major General SM Shamim Uz Zaman, Press Secretary Md. Joynal Abedin and Secretary (Joint) Md. Wahidul Islam Khan were present on the occasion.