Bangladesh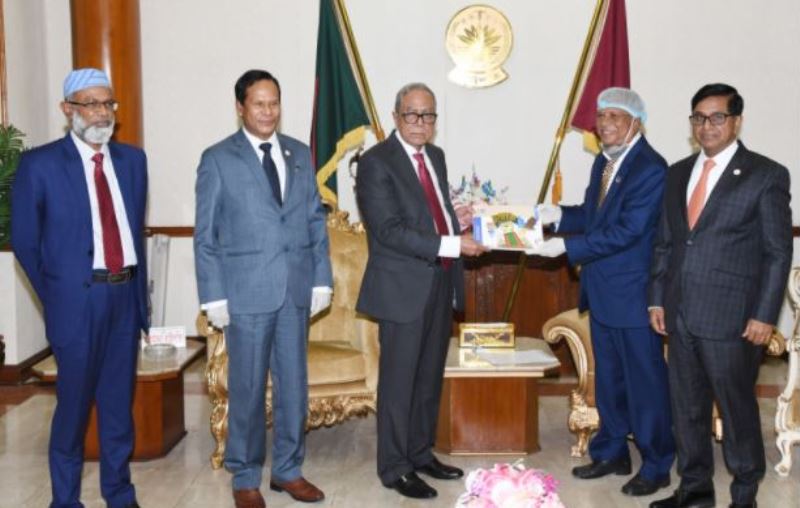 PID
President Hamid urges resistance against corruption to build a better nation
Dhaka, February 8: President Mohammad Abdul Hamid has called upon all to build resistance against corruption across the country so that future generations can grow up in a corruption-free environment.
"Corruption is a major obstacle to development," he said. "Apart from the government, people's representatives and volunteers and various social and cultural organizations have to come forward to eradicate corruption from the society."
He said this while presenting the annual report-2019 of the Anti-Corruption Commission (ACC) to the President at Bangabhaban on Sunday (February 7). The President expressed satisfaction over the activities of the Anti-Corruption Commission and hoped that the Commission would play a more active role in curbing corruption in the future.
ACC chairman Iqbal Mahmud presented the report. ACC Commissioner Dr. Md. Mozammel Haque Khan and AFM Aminul Islam were present on the occasion.
During the meeting, the ACC chairman briefed the President on various aspects of the report and the overall activities of the commission. The ACC chairman said more than 21,000 complaints were received in 2019. Six percent has been taken for investigation and 17 percent has been sent to the concerned ministry for necessary action.
He added that more than Tk 3,497 crore fines have been collected in 2019. Property worth Tk 436 crore has been confiscated. Besides, various properties have been seized and freezed at home and abroad.
During the meeting, the ACC chairman recommended the promotion of government officials from ninth grade onwards through examination in each case to ensure honesty, accountability and transparency of government officials. He also recommended the establishment of a Civil Service Reforms Commission.
The ACC Chairman sought the full cooperation of the President in taking necessary steps for the implementation and monitoring of the recommendations made by the Anti-Corruption Commission.
Secretary to the President's Office Sampad Barua, Military Secretary Major General SM Salah Uddin Islam, Press Secretary Mohammad Joynal Abedin and Secretary to the President's Office Mohammad Wahidul Islam Khan were present on the occasion.