Bangladesh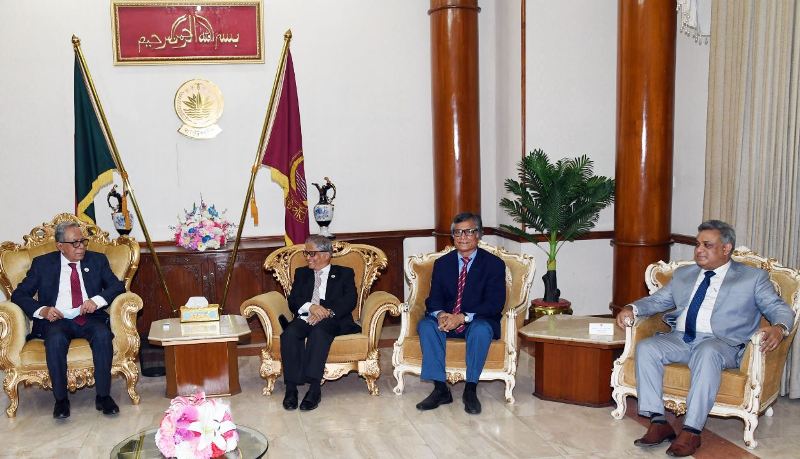 PID
President instructs DU to prepare a 'roadmap' to resolve session jam
Dhaka, January 11: President Md. Abdul Hamid has directed the Dhaka University (DU) authorities to formulate a roadmap to overcome the session jam caused by the coronavirus pandemic. To this end, the President also advised the university authorities to formulate a Standard Operating Policy (SOP).
He gave the instructions during a courtesy call on the President at Bangabhaban on Sunday (January 10) evening by a delegation of Dhaka University led by Vice Chancellor, Professor Dr. Md. Akhtaruzzaman. President's Press Secretary Joynal Abedin told reporters.
President Abdul Hamid said Dhaka University is the birthplace of higher education in Bangladesh. This university has a unique role in every democratic movement and struggle of the country including language movement and liberation war.
Vice-Chancellor Akhtaruzzaman said the university has decided to reduce the time of various examinations due to coronavirus.
During the meeting, the Vice Chancellor of Dhaka University informed the President about the overall activities of the university and the activities taken on the occasion of its centenary.
The Vice-Chancellor said that 300 basic researches will be published on the occasion of the centenary. In addition, a centenary monument will be set up highlighting the 100-year history and tradition of the university.
Meanwhile, the Vice-Chancellor invited the President to be the chief guest at the inaugural function of the centenary celebrations on July 1, 2021.
He also briefed the President about the online education activities of the university during his tenure. Besides, the Vice-Chancellor said, the admission test will be held in every departmental city this time to alleviate the suffering of the students in Dhaka University.