Bangladesh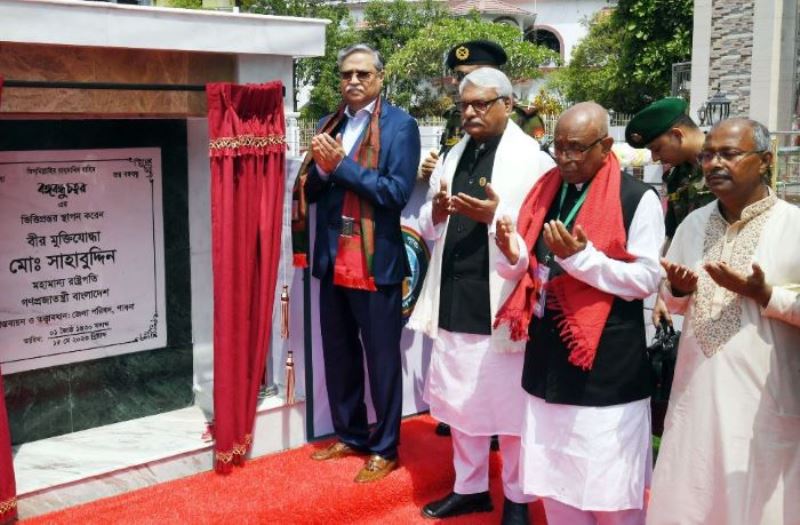 Photo: PID
President lays foundation stone of Bangabandhu Chattar in Pabna
Dhaka, May 16: On the first day of his visit to his native district Pabna, President Md. Shahabuddin laid the foundation stone of Bangabandhu Chattar and laid a wreath at the portrait of Bangabandhu at the district council on Monday. Later, he visited the graves of his parents in the central cemetery at Arifpur in the city.
The 22nd President of the country Md. Shahabuddin reached his native district Pabna at 12:08 pm on Monday on a four-day state visit. A guard of honour was given when he arrived at the circuit house.
Deputy Speaker Advocate Shamsul Haque Tuku along with administration officials and top leaders of the party welcomed the President at Circuit House. MP Ghulam Farooq Prince, Convener of the President's Civic Reception Committee, Hero Freedom Fighter Anjan Chowdhury Pintu, Deputy Commissioner Biswas Russel Hossain, Superintendent of Police Akbar Ali Munsi, Chairman of the President's Balyabandhu Square Group Samuel S Chowdhury, Member Secretary of the Citizen's Welcome Committee and President's Balyabandhu Professor Shivjit Nag, District Awami League President Rezaul Rahim Lal and others were present.
The President left for the Central Cemetery at 1:30 pm from the Circuit House. On the way, he laid the foundation stone of the Bangabandhu Chattar established by the initiative of the Zilla Parishad and laid a wreath on the portrait of Bangabandhu. On this occasion, Zilla Parishad Chairman Bir Muktijoddha ASM Abdur Rahim Pakon, members of Zilla Parishad were present. Later the President went to the Arifpur Central Cemetery and visited the graves of the parents. The wife of the President Dr Rebecca Sultana and other family members were present at the time.
On May 17 morning, he will visit the Pabna Diabetic Society and an amusement park. After that, President Md. Shahabuddin will travel to Dhaka on May 18 after spending the night at Circuit House.