Bangladesh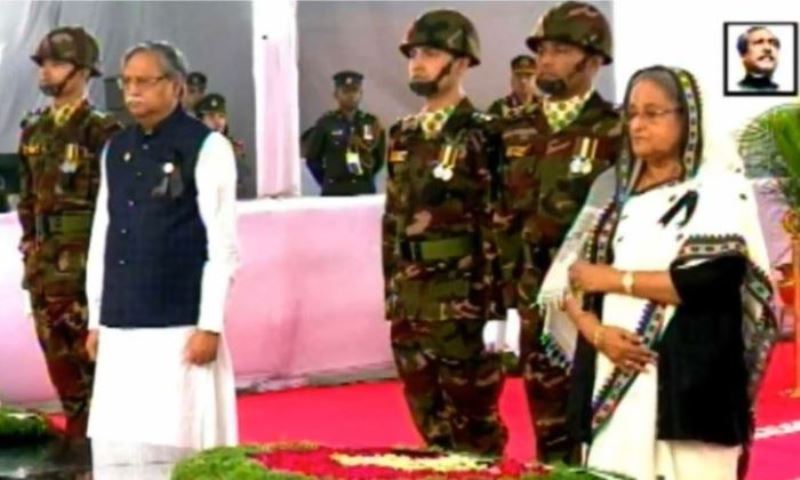 Photo: Collected
President, PM pay tribute to Bangabandhu's portrait
Dhaka, August 15: On the occasion of the 48th martyrdom anniversary of Father of the Nation Bangabandhu Sheikh Mujibur Rahman and National Mourning Day, President Md Shahabuddin and Prime Minister Sheikh Hasina paid tribute to Bangabandhu's portrait at Dhanmondi number 32.
They paid their respects at 6:30 am on Tuesday (August 15). After the tributes, the President and the Prime Minister stood in silence for a while as part of a show of respect to Bangabandhu. At that time, bugles were played and a well-armed contingent of armed forces gave a guard of honor to the Father of the Nation. At that time, a special prayer was also offered in memory of the martyrs of August 15. Later Prime Minister Sheikh Hasina along with the senior leaders of Awami League presented wreaths on behalf of the party as the president of Awami League.
Bangladesh Awami League is celebrating Father of the Nation Bangabandhu Sheikh Mujibur Rahman's 48th martyrdom anniversary and National Mourning Day with due dignity. The programs of Awami League and its affiliates and affiliated organizations on the occasion of the National Day of Mourning include- Paying respects to the martyrs of August 15 at Banani Cemetery at 7:30 am, Shrine Ziarat, Fateha reading, Monajat and Milad Mahfil. Tributes, Fateha reading, Milad and Doa Mahfil at Bangabandhu's tomb at Tungipara at 11 am. Central leaders of Awami League, leaders of Gopalganj district and Tungipara upazila Awami League will participate in that program.
Doa and Milad mahfil in all mosques of the country including Baitul Mukarram national mosque centrally except Bad Zohar. Also as part of nationwide special prayer program in temples, pagodas, churches, places of worship centrally at 11 a.m. at Mirpur Baptist Church (3/7 at Senpara, Parvata, Mirpur-10), at 10 a.m. the Buddhist community at Merul Badda International Buddhist Vihar in the capital and at 11 a.m. A Hindu community prayer meeting will be organized at Dhakeshwari National Temple. At noon, food distribution and public feast will be organized among poor, orphans and distressed people across the country. Doa and Milad Mahfil (Bangladesh Women's Awami League) at Bangabandhu Bhavan premises at Bad Asr Dhanmondi 32.
National Mourning Day Commemoration at Bangabandhu International Conference Center on Wednesday (August 16) at 3:30 pm. Awami League President and Prime Minister Sheikh Hasina will preside over the meeting.