Bangladesh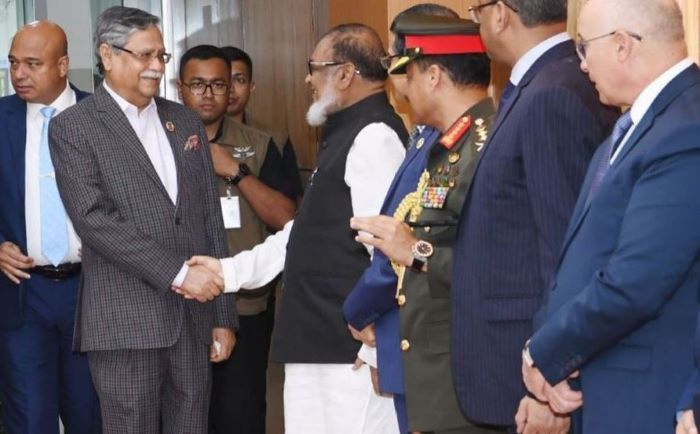 PID Bangladesh
President returns to Bangladesh
Dhaka, September 17, 2023: After a 13-day visit to Indonesia and Singapore, President Md. Sahabuddin has returned to Bangladesh.
He landed in Dhaka on a VVIP flight (BG-585) of Biman on Saturday 16 September at 6:35 pm. The flight departed Changi International Airport at 4.22pm Singapore time.
Minister of Liberation War Affairs AKM Mozammel Haque, Cabinet Secretary, Prime Minister's Principal Secretary, Dean of Diplomatic Corps, Indonesian Ambassador to Bangladesh, Chiefs of three Armed Forces and Inspector General of Police along with senior civil and military officials welcomed the President, his wife and entourage at the airport.
The President left Dhaka for Jakarta on a regular Bangladesh Biman flight on September 4. On September 8, he went to Singapore from Jakarta, the capital of Indonesia. President Sahabuddin attended the 43rd 'ASEAN Summit', 18th 'East Asia Summit' and several other bilateral meetings on the sidelines in Indonesia on September 5-7.
The President, along with his wife, attended the opening ceremony of the conference on the morning of September 5. Chairperson of Bangladesh National Advisory Committee on Autism and Neurodevelopmental Disorders Saima Wazed and Foreign Minister Dr. AK Abdul Momen was also with the President.
The opening ceremony of the 43rd ASEAN Summit was attended by 10 organizational leaders of ASEAN countries and some heads of state, heads of state and government of partner countries. Host country Indonesia invited 27 world leaders and executive directors of international organizations, the International Monetary Fund (IMF) and the World Bank, to the Jakarta ASEAN Summit.
The President on September 6 with his Indonesian counterpart Joko Widodo and Secretary General of the Indian Ocean Rim Association (IORA). Salman also held a separate bilateral meeting with Al Farisi. On the sidelines of the summit, the President of Bangladesh attended the 18th 'East Asia' Summit and addressed as an invited guest on 7 September.
In his speech, the President of Bangladesh focused on the Rohingya crisis in Myanmar, raising various ASEAN issues. He pointed out that Bangladesh is now facing multi-faceted problems in repatriation of 1.2 million Myanmar nationals who were forcibly displaced seven years ago and took refuge in Bangladeshi territory. The President sought the full cooperation of the world leaders in solving the Rohingya problem.