Bangladesh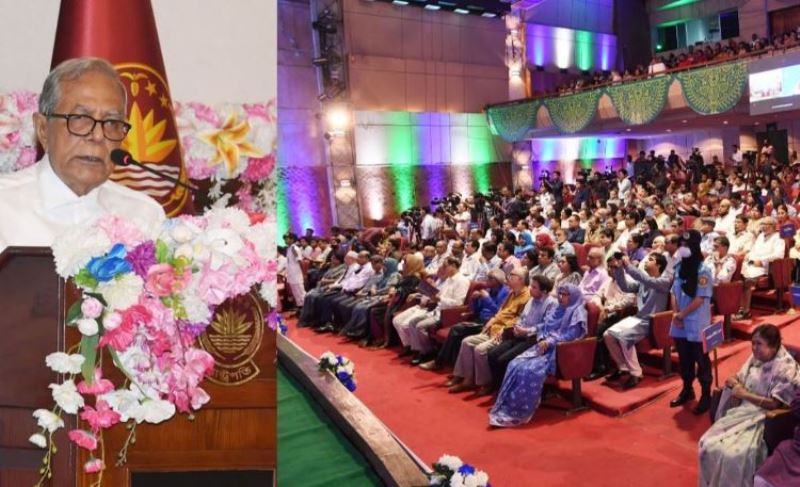 Photo: PID
President urges to discard foreign unnecessary, bad culture
Own Correspondent, Dhaka, Sept 23: President Md. Abdul Hamid has urged the people, especially the youth, of the nation to discard foreign unnecessary and bad cultures.
He made this call at a function of Bangladesh Shilpakala Academy in the capital on Thursday.
He said, "Foreign culture is constantly infiltrating our cultural arena due to sky culture. We have to discard unnecessary and bad culture."
Joining the 'Shilpkala Padak 2019 and 2020' ceremony virtually from Banga Bhaban, the President said that initiatives should be taken at the grassroots level to develop a non-communal and liberation war-spirited culture. Therefore, to develop them as healthy and humane citizens, healthy culture should be developed at the individual, family, social and national levels.
President Hamid also urged to start the practice of culture from the grassroots, especially from the family. The President mentioned the contribution of Father of the Nation Bangabandhu Sheikh Mujibur Rahman in the development of the country's culture and said that Bangabandhu established the 'Bangladesh Shilpakala Academy' on February 19, 1974, and its activities have now expanded to 492 Upazilas of 64 districts.
Abdul Hamid said that various activities organized by Shilpakala Academy as a part of the 'Mujib Centenary' celebration have played a commendable role in spreading the life and work of Bangabandhu and his art and cultural ideas among the people at home and abroad, especially in the grass root level. We have to make everyone aware of modern-day culture and traditions regardless of caste and religion at the grass root level.
Referring to culture as the mirror of life, the President said, the development and tradition of our culture show how advanced and modern we are as a nation.
If he wants to turn the country's youth into modern, skilled manpower, they should be involved in cultural activities. The President thinks that our culture can play the role of the main weapon in fighting militancy and terrorism.
President Hamid expressed concern and said that children and the youth community are tired of chasing various apps including Facebook, YouTube, Tik Tok, and games. Mobiles and laptops are the main entertainment and sports equipment for them. If this continues, they will forget their history and heritage one day.
Medals were awarded to 20 talented artists on the occasion.