Bangladesh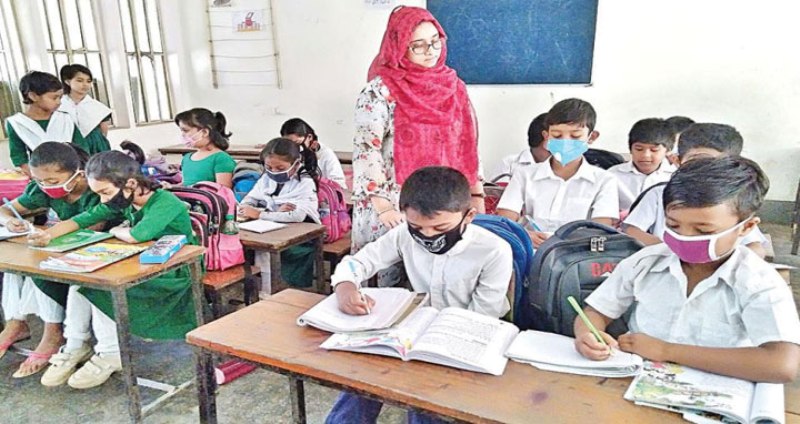 File photo
Primary classes will continue during the restrictions
Own Correspondent, Dhaka, January 13: The class activities in the primary level educational institutes will continue in a limited range during the restrictions in adherence to hygiene and Covid protocols.
State Minister for Primary and Mass Education, Md. Zakir Hossain, said this in response to a question from reporters after a programme titled 'Lack of Learning during Covid-19 pandemic; Experience of Friendship Education Programme in Charanchal' organized by Friendship at CIRDAP auditorium in the capital on Wednesday (January 12).
He said the Ministry of Primary and Mass Education has been in touch with the students through court yard sessions, phone calls and home visits to eliminate the lack in learning during the corona pandemic. Besides, programmes following the regular lessons have been aired on Bangladesh Television and Bangladesh Betar. Above all, the 'Accelerated Remedial Learning Plan' is being implemented to address the lack in learning.
The state minister further said that it was a unique achievement of Sheikh Hasina's government to present new books to the students on the first day of the year. The distribution of free full color textbooks is a unique example in the world. Since independence, the education sector in Bangladesh has made significant progress. The literacy rate, which was at 17.6 percent in 1971, is now at 75.60 percent. More than four crore students are studying in about two lakh educational institutions from pre-primary to class 10.
The organization's founder, Runa Khan, made the welcome address in the event presided by Professor Abdul Malek of Dhaka University's Institute of Education and Research. Grassroot-level videos and research papers were presented at the seminar.