Bangladesh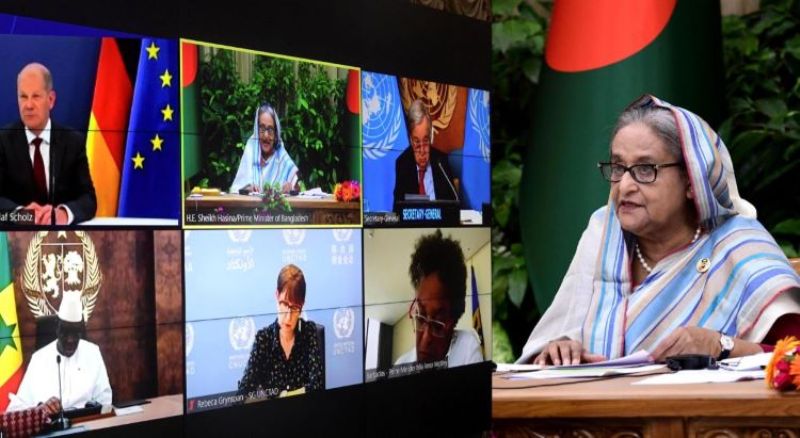 Photo: PID
Prime Minister calls for concerted efforts to overcome global crisis
Own Correspondent, Dhaka, May 21: Prime Minister Sheikh Hasina has called for strengthening global solidarity and taking concerted action to address the food, power and financial crisis caused by the Russia-Ukraine war and the Covid-19 pandemic.
She has put forward four proposals aimed at overcoming the global crisis, which require swift and effective action.
She said, "The war in Ukraine comes at a time when the world is struggling to recover from the Covid-19 pandemic. The war has already put serious strain on the fragile world economy."
The Prime Minister made the remarks while addressing the first high-level meeting of the Global Crisis Response Group (GCRG) on Friday at a virtual platform attached to her official residence Ganobhaban. She called for effective role of developed economies and financial institutions in tackling the crisis effectively.
Prime Minister Sheikh Hasina said the Russia-Ukraine war has made the current situation extremely unstable, where short supply of food, fuel and other commodities and abnormal rise in prices have already put severe strain on the lives of general people. She said that the least developed countries and SIDs are facing the most losses and they need immediate and targeted assistance to overcome this situation.
She has called on developed countries and multilateral financial institutions to come forward for access to duty-free and quota-free markets and more readily available financing.
UN Secretary-General Antonio Guterres has formed the group to address the ongoing global crisis caused by the Ukraine-Russia war and the Covid-19 pandemic.
In the context of the global crisis, Sheikh Hasina has put forward four proposals to overcome the situation. In the first resolution, she said, "First, we must strengthen global solidarity and make a concerted effort. The G8, the G20, the OECD, and the international financial institutions have a key role to play."
The Prime Minister said she is happy that the steering committee of the group has been made up of all the major financial institutions.