Bangladesh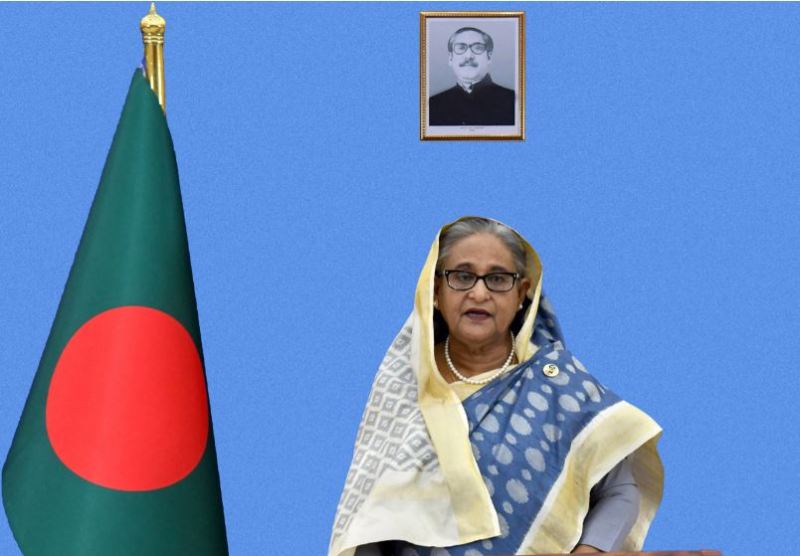 PID
Prime Minister calls for working on the basis of partnership for a sustainable future
Dhaka, September 18: Prime Minister Sheikh Hasina has called upon the major economies of the world to work with all stakeholders on a partnership basis to ensure a sustainable future for the next generation. In a speech before the "Major Economic Forum on Energy and Climate" convened by US President Joe Biden in Washington DC on Friday (September 17), the Prime Minister proposed six points for the forum to consider.
In her first proposal, the Prime Minister called on the major carbon emitting countries to take steps to reduce their carbon emissions with a view to limiting global warming to 1.5 degrees Celsius.
In her second proposal, she said the developed countries would have to meet their annual 100 billion pledge for climate funding and distribute 50:50 between adaptation and mitigation.
In the third resolution, the Prime Minister reiterated her call for developing countries to move forward with technology transfer as well as the most efficient energy solutions.
In her fourth proposal, the Prime Minister said that in the transition to the use of renewable energy, the respective development priorities of the nations should be taken into account and the issues of losses should be considered on the basis of their experience.
In her fifth proposal, the Prime Minister said all countries need to share the responsibility of rehabilitating people displaced by rising sea levels, salinity, river erosion, floods and drought.
She wished for a strong and meaningful outcome at the COP 26 conference to be held in Glasgow next November and called on the world's major economies to play a key role in this endeavor.
Prime Minister Sheikh Hasina said Bangladesh is one of the countries at risk of climate change. In addition to rising sea levels, rising salinity, river erosion, floods and droughts, Bangladesh is facing severe climate impacts as 1.1 million Rohingya have been forcibly displaced from Myanmar.
As President of the Climate Vulnerable Forum (CVF) and V-20, the Prime Minister said Bangladesh's main goal is to highlight the interests of climate-risk-prone countries. The Prime Minister said Bangladesh also shared best practices through the South Asia Regional Office of the Global Center on Adaptation in Dhaka.