Bangladesh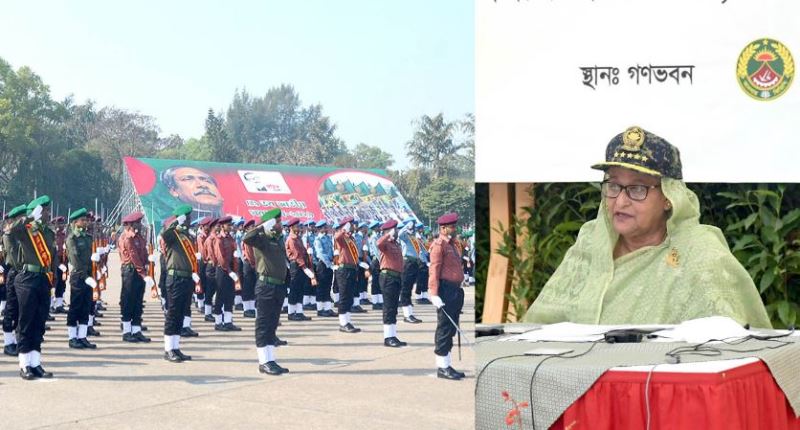 PID
Prime Minister calls upon rural people to get Covid-19 vaccinations
Dhaka, February 12: Prime Minister Sheikh Hasina has called upon the people of the village to take corona vaccine. The Prime Minister directed every member of Ansar and VDP to work for the people of the village to be interested in getting vaccinated.
The Prime Minister was speaking at the 41st National Rally and Parade of Bangladesh Ansar and Village Defense Forces at Safipur in Gazipur on Thursday (February 11) via video conferencing from Ganobhaban.
The Prime Minister said Ansar-VDP always stands by the people in any work. Such as arson, BNP-Jamaat alliance was burning people alive. The BNP-Jamaat alliance was involved in inhumane acts such as setting fire to railways or removing railway tracks and causing accidents and killing people. In all those places and all over Bangladesh, we involved the Ansar forces in protecting the lives and property of the people and they dealt with fire and terrorism very efficiently at that time.
"Now we are dealing with the coronavirus," she said. "I would like to request every member of Ansar-VDP to make sure that every person gets vaccinated against this corona. We have already started vaccinating. Many people are scared, there are some people who are afraid to shoot needles. But in order to prevent them from getting sick, we have made arrangements to ensure that they take the vaccine as well as take the time. I want the cooperation of Ansar and VDP members in that regard."
The Prime Minister said a digital center has already been set up for registration for vaccination. Everyone can register by going to that digital center. I urge everyone to get vaccinated by themselves and all family members. You will also inspire the people of the village so that at least the people of Bangladesh can be freed from this epidemic which has appeared all over the world today. Our efforts for that will continue. You tick. We want you to be safe, to be more protected with vaccines, and to follow hygiene rules.
Referring to her choice of Ansar-VDP clothing design for the new outfit, the Prime Minister said each force has its own outfit. So we have given away the khaki dress of the Pakistan period or the changes that have taken place in the Ansar forces at different times and now we have provided new 'Srimanial' festival dress and combat dress. Other forces also have combat uniforms, so why should the Ansar be left out? And I have chosen the color and design of today's dress. Hope you all like it.