Bangladesh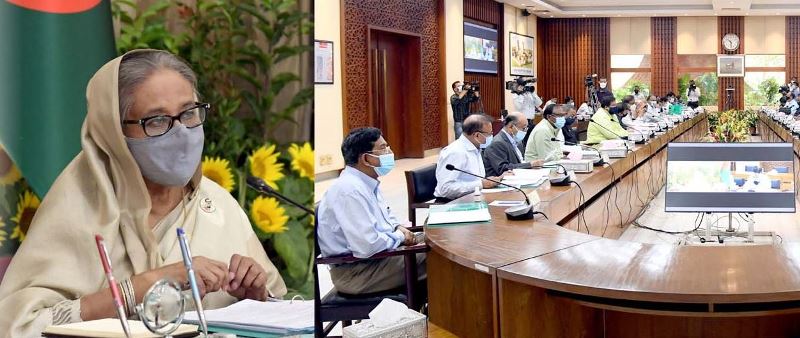 Collected
Prime Minister directs officials to quickly complete super specialised hospital
Dhaka, May 4: Prime Minister Sheikh Hasina has directed to complete the work of setting up a Super Specialized Hospital (First Amendment) project under Bangabandhu Sheikh Mujib Medical University (BSMMU) within the stipulated time. The Prime Minister gave the directive at a meeting of the Executive Committee of the National Economic Council (ECNEC) on Tuesday (May 4th). ECNEC Chairperson and Prime Minister Sheikh Hasina presided over the meeting by joining the NEC Conference Room in Sher-e-Bangla Nagar via video conference from Ganobhaban.
On the other hand, concerned ministers and secretaries were present in the NEC conference room. After the meeting, Planning Minister MA Mannan said this at a press conference.
The Planning Minister said that the Prime Minister has said about this project, it has been a long time since you have been able to implement the project. The project has to be implemented within the stipulated time. The cost of the project has been increased by Tk 195 crore through amendments. The duration of the project has been extended by two years till December 2022 through amendments. The project is being implemented by BSMMU. The total expenditure is Tk 1,561.18 crore.
EDCF and Korea are lending Tk 1,470.33 crore for the project and Tk 175 crore is being spent from BSMMU's own funds.
The planning minister said the prime minister knows what happens in the project called canal excavation. That is why she has given strict instructions.
It may be mentioned that 10 projects have been approved in the meeting of the Executive Committee of the National Economic Council (ECNEC). The total cost of the projects is estimated at Tk 11,901.33 crore.
On September 11, 2018, Prime Minister Sheikh Hasina laid the foundation stone of the Super Specialized Hospital project. Under the direction of the Prime Minister, the super specialized hospital will be a patient friendly green hospital. With the introduction of Hospital Information Center, patients and hospitals will be managed in a completely digital manner.
With the existing facilities, the public will get affordable international quality medical services here. This super specialized hospital will open a new horizon of healthcare. In particular, the horizons of world-class medical services as well as advanced research and training will be expanded. Through the super specialized hospital, it will be possible to ensure the highest level of healthcare in the country, not abroad.