Bangladesh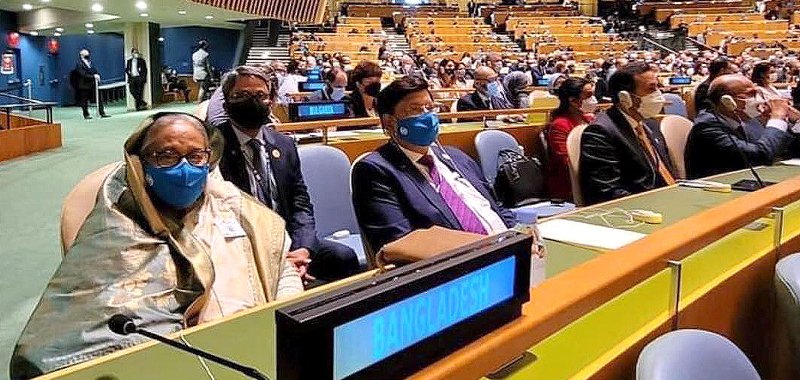 PID
Prime Minister Hasina attends UN General Assembly
Dhaka, September 22: Prime Minister Sheikh Hasina has joined the 76th General Assembly of the United Nations (UNGA). She joined the high-level talks at the UN headquarters in New York on Tuesday morning, local time, the first day of the session. The UN session will be held from September 21 to 27. The Prime Minister will address the gathering on September 24.
According to the official news agency BSS, the Prime Minister will give a speech in Bengali this time as well as last year. Earlier, in 1974, Bangabandhu Sheikh Mujibur Rahman delivered his historic speech at the United Nations in Bengali.
The Prime Minister left Hazrat Shahjalal International Airport for Helsinki on 17 September. She then left Helsinki for New York on September 19 to attend the UN General Assembly. This is the first foreign visit of the Prime Minister after a year and a half of his visit to Italy in February 2020.
The Prime Minister will be in New York from September 19 to 24 to attend the UN General Assembly session and a number of high-level events there. Due to the global pandemic, the size of the delegation approved in the General Assembly session has been limited.
Meanwhile, the Prime Minister of Barbados, Mia Amor Mottley, paid a courtesy call on Prime Minister Sheikh Hasina at the New York Palace in New York on Monday. During the meeting, they discussed various issues, including anti-microbial resistance (AMR). Foreign Minister Dr AK Abdul Momen said following the meeting.
Dr. Momen said that Prime Minister Sheikh Hasina has been vocal about AMR for the last six years. The two prime ministers have been appointed vice presidents of the One Health Global Leaders Group. Foreign Secretary Masood bin Momen, Permanent Representative of Bangladesh to the United Nations Ambassador Rabab Fatima and Press Secretary Ihsanul Karim were present on the occasion.
At the end of the meeting, the Prime Minister presented a copy of Bangabandhu's autobiography 'Unfinished Autobiography' to the Prime Minister of Barbados.