Bangladesh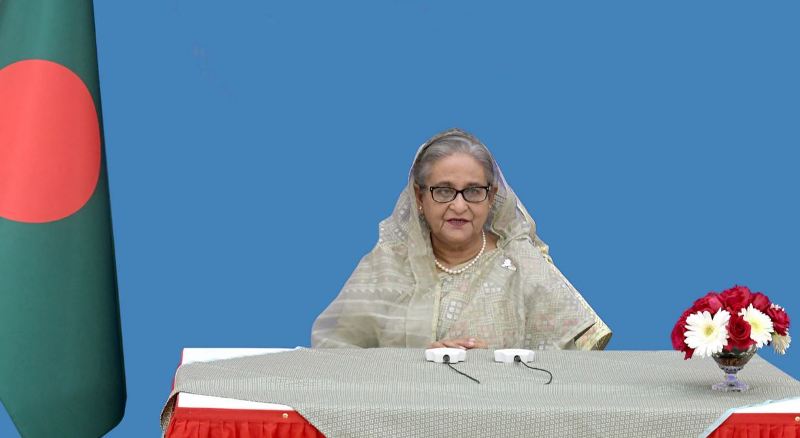 PID
Prime Minister Hasina calls for further strengthening of Bangladesh-India relations
Own representative, Dhaka, December 7: Prime Minister Sheikh Hasina has emphasized on the need for further strengthen the 50-year diplomatic relationship between Bangladesh and India by focusing on connectivity, trade, commerce and communication.
The Prime Minister made the remarks in a two-minute video message aired on the occasion of Friendship Day. The event was organized by the Indian Council of World Affairs (ICWA) in New Delhi on Monday to mark the 50th anniversary of the establishment of Indo-Bangladesh diplomatic relations in the wake of the recognition of Bangladesh by India on 6 December 1971.
State Minister for Culture KM Khalid, Indian Foreign Secretary Harsh Vardhan Sringla, Bangladesh High Commissioner in New Delhi Muhammad Imran and ICWA Director General Vijay Thakur Singh spoke on the occasion.
The Prime Minister said, "We continue to believe in the importance of our relationship," he said. At the same time, this anniversary has given us an opportunity to think about the foundation of our bilateral relationship and the way forward. It is also an opportunity to reaffirm our commitment to work towards strengthening the long lasting dynamic partnership between Bangladesh and India. The key issue in bilateral relations now is the need to focus on people-to-people engagement, trade, business and communication, which has become increasingly important for both sides, she said.
Hasina said, Bangladesh and India are celebrating the golden jubilee of establishing diplomatic relations. This is a milestone in the journey of our bilateral relations. India recognized Bangladesh as an independent and sovereign state on 6th December 1971.