Bangladesh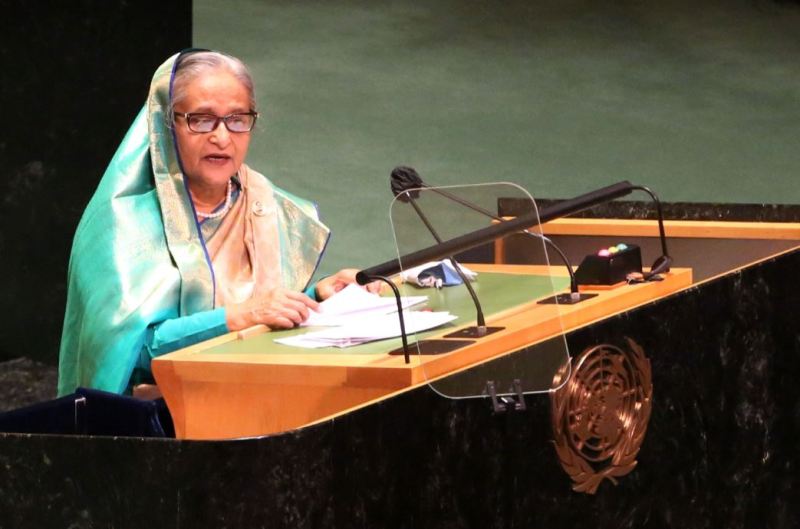 PID
Prime Minister Hasina demands affordable vaccines to build a Covid-free world
Dhaka, September 26: Prime Minister Sheikh Hasina has demanded appropriate global steps to make vaccines available at universal and affordable prices to build a Covid-free world. She warned that the current "vaccination-splitting" trend would only prolong the pandemic.
"For a Covid-free world, we must ensure universal and affordable vaccines for all people," she said.
She said this in her 17th Bengali address as the Prime Minister following in the footsteps of Father of the Nation Bangabandhu Sheikh Mujibur Rahman at the UN General Assembly session in New York on Friday night.
Expressing deep concern over the widening of vaccine inequality between rich and poor countries, Sheikh Hasina said, "So far, 84 percent of the vaccines produced have reached the people of high and upper-middle income countries. On the other hand, low-income countries received less than 1 percent of the vaccine. This vaccine inequality needs to be addressed urgently. Sustainable recovery is never possible without billions of people being vaccinated. We can't be completely safe."
She said the immediate transfer of vaccine technology could be a way to ensure vaccine equality. Bangladesh is also capable of producing a large amount of vaccines with the help of technology assistance and concessions on intellectual property.
She raised specific six-point proposals on various issues, including tackling the coronavirus pandemic, the risks of climate change, and the return of the Rohingya. The Palestinian and Afghan issues also came up in her discussions. The Prime Minister hoped for a strong role and continued cooperation from world leaders on the issue of Rohingya repatriation.
"Unfortunately, the pandemic will continue for some time to come," she said. "We now have to adopt a much newer, more inclusive and global plan than ever before to deal with this common enemy."
The Prime Minister made a specific proposal in this regard. In her proposal, she said, "In order to build a world free of Covid, we need to ensure universal and affordable availability of vaccines. At this grand session last year, I called for the Covid-19 vaccine to be considered a 'global asset'. Many world leaders then agreed. However, not much response has followed since. This inequality must be eliminated as a matter of urgency."