Bangladesh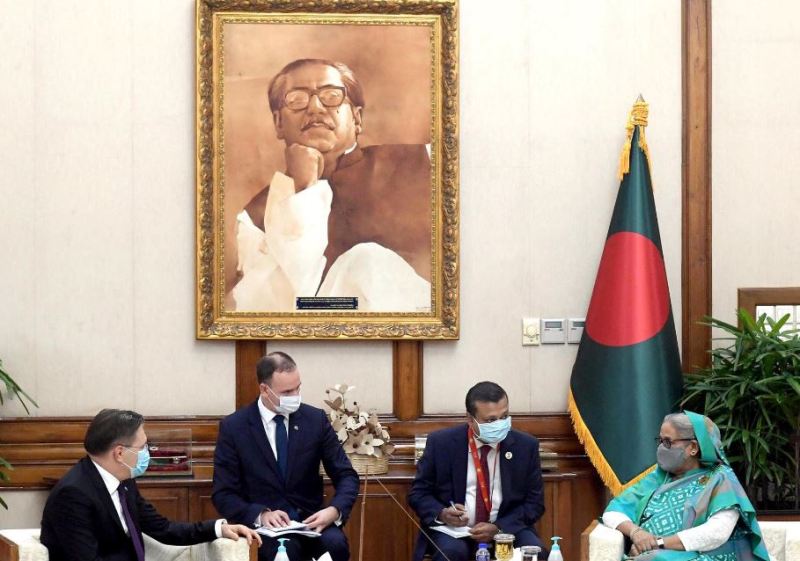 PID
Prime Minister Hasina expects Russia's cooperation in setting up another nuclear power plant
Dhaka, October 12: Prime Minister Sheikh Hasina has sought Russia's support and cooperation in setting up another nuclear power plant in the south of the country.
"We want to set up another nuclear power plant in the south of the country and we need Russia's continued cooperation in this regard," she said during a courtesy call on Alexey Likhachev, Director General of Russia's State Atomic Energy Corporation ROSATOM, at Ganobhaban on Monday (October 11).
Later, PM's Press Secretary Ihsanul Karim briefed reporters on the meeting.
Bangladesh has built for the first time a nuclear power plant at Rooppur in Pabna with the technical and financial support of Russia. Russia's state nuclear energy corporation, Rosatom, has cooperated. Emphasizing the importance of security, the Prime Minister called on the Director General of Rosatom to train the local people. So that they can run Rooppur Nuclear Power Plant (RNPP).
At the same time, Likhachev said that mutual cooperation between Bangladesh and Russia has entered the nuclear field and by 2023, Bangladesh will become a nuclear power.
He said they would train Bangladeshis to run the RNPP and would continue their cooperation in Bangladesh's power sector.
He lauded the local staff, saying more than 20,000 people, including engineers, technicians and other manpower, were making significant contributions to the RNPP. Many Bangladeshi companies are also working on sub-contracts.
The Director General of ROSATOM appreciated the cooperation of the concerned Ministries and the Bangladesh Atomic Energy Commission in the implementation of the RNPP. However, the implementation time can be adjusted, he said.
On safety, he said they would give top priority to the safety of the RNPP and were also working on social development in the area around the plant. He also presented the technical and security aspects of the RNPP to the Prime Minister. He commended the Prime Minister for his assistance in the implementation of the RNPP.
During the meeting, Prime Minister Sheikh Hasina recalled the support of the then Russian Federation during the War of Liberation. He told the Director General that the Corona epidemic has halted the progress of Bangladesh, but now it is overcoming it.
Earlier on Sunday, Prime Minister Sheikh Hasina inaugurated the installation of the main reactor pressure vessel at the Rooppur Nuclear Power Plant (RNPP). Which is being implemented by Bangladesh Atomic Energy Commission with technical and financial assistance from Russia. With the installation of reactor pressure vessels in the main unit of RNPP, Bangladesh's dream of becoming a nuclear power producing country is about to be realized.