Bangladesh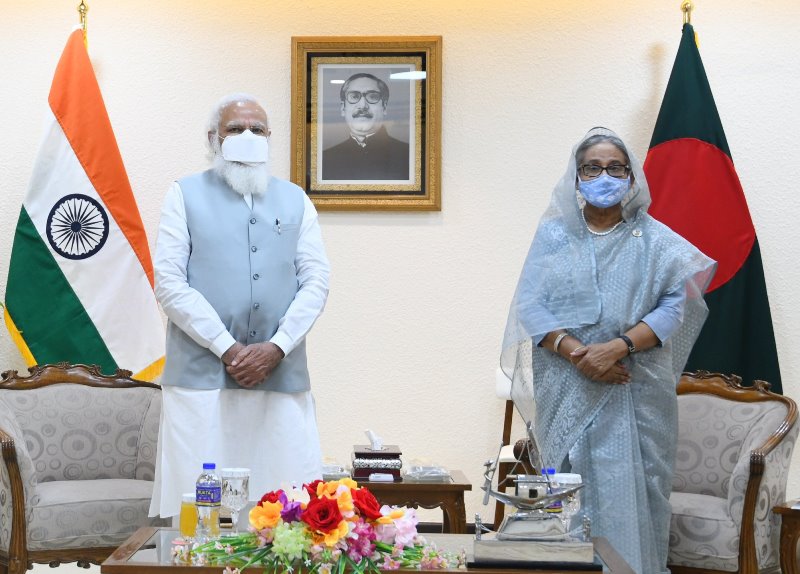 MEA India
Prime Minister Hasina greets Narendra Modi as India celebrates Republic Day
Dhaka, January 26: The Prime Minister of Bangladesh Sheikh Hasina greeted the Prime Minister of India Narendra Modi on the occasion of Republic Day of India. On Wednesday (January 26), Sheikh Hasina sent a congratulatory message to Modi on the occasion of the 73rd Republic Day of India.
Last year was a historic year for Bangladesh-India relations. I am gratefully remembering your (Modi's) visit to Dhaka in March on the golden jubilee of Bangladesh's independence and the birth centenary of Father of the Nation Bangabandhu Sheikh Mujibur Rahman and the 50th anniversary of the establishment of Bangladesh-India diplomatic relations. Your (Modi's) presence on these occasions has added a new dimension. As well as further consolidating our ongoing bilateral relations.
In her congratulatory message, Bangabandhu Kanya mentioned India's support in the liberation war of Bangladesh. He wrote that the support given by the Indian government and people during our liberation war in 1971 laid the foundation of our unique relationship. In 1971, when India recognized Bangladesh as a sovereign and independent state. The joint celebration of World Friendship Day on December 6 highlights this special relationship.
Sheikh Hasina further wrote that in recent years, the place of close friendship, cooperation and trust between our two countries has become stronger and stronger. New areas of our cooperation have expanded, especially during the Corona epidemic. Bangabandhu Kanya also expressed hope that the two countries would move forward together on the path of peace and prosperity in the next 50 years.
By the way, January 26 is the Republic Day of India. The Constitution of India came into force on this day in 1950.