Bangladesh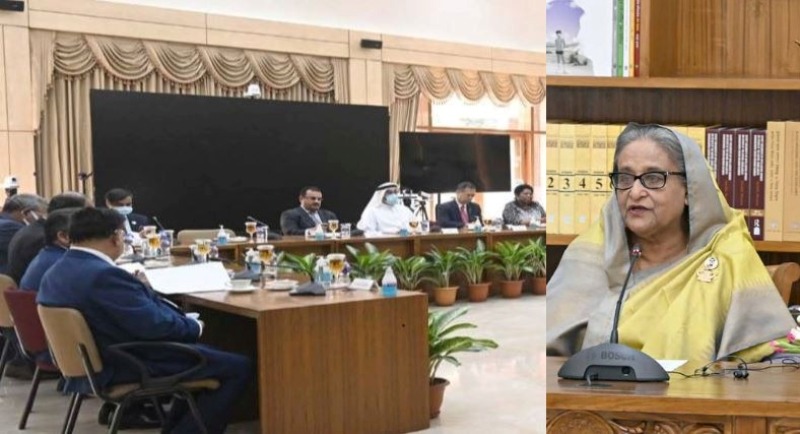 PID
Prime Minister Hasina meets IORA ministers
Dhaka, November 26: Visiting Foreign Ministers, Ministers of State and Deputy Ministers of member countries and dialogue partners of the Indian Ocean Rim Association (IORA) met Prime Minister Sheikh Hasina at her official residence Ganabhaban on Friday.
Ministers from Comoros, India, Maldives, Mozambique, Somalia, South Africa, Sri Lanka, Thailand, United Arab Emirates and Yemen were in the group, a press release from the Prime Minister's Press Wing said. The Prime Minister welcomed the Ministers to Bangladesh and thanked them for attending the 22nd IORA Council of Ministers meeting. She expressed his gratitude to Bangladesh for their support during IORA's chairmanship.
Sheikh Hasina briefed the delegates about her government's 'Vision 2041', which has been formulated to transform the country into a self-reliant, prosperous, egalitarian and developed country by 2041. She informed the visiting ministers about the economic development of the people of Bangladesh.
All the Ministers praised the Prime Minister for her able leadership in transforming Bangladesh into an economic role model and achieving commendable socio-economic progress.
Sheikh Hasina said there should be regular exchange of VVIP visits and visits between business delegations and chamber officials. There should be more business-to-people contact to develop trade and economic relations.
All delegates agreed that intra-regional investment flows are modest and there is considerable scope for expanding bilateral trade and investment relations. They opined that a free trade agreement (FTA) between IORA member states would be very beneficial in this regard.
The Prime Minister wished them good health, happiness and a safe return to their country. She extended her sincere gratitude and best wishes to the Heads of State and Government of IORA member states and dialogue partners.