Bangladesh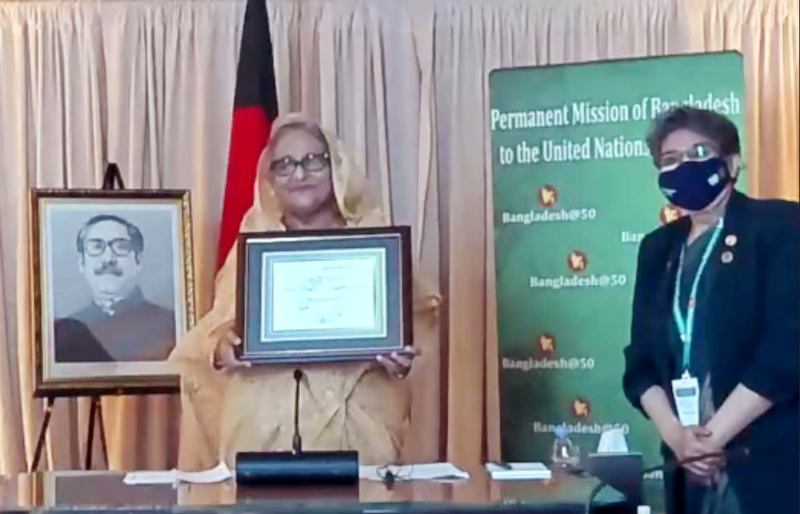 PID
Prime Minister Hasina receives the 'SDG Progress Award'
Dhaka, September 21: Prime Minister Sheikh Hasina has received the 'SDG Progress Award' for Bangladesh's achievement in sustainable development. The Prime Minister received the award at the Ninth Annual International Conference (virtual) on Sustainable Development in New York on Monday (September 20th). The award was jointly presented to Sheikh Hasina by the United Nations Sustainable Development Solutions Network (SDSN), the Global Masters of Development Practice and the Earth Institute and the Center for Sustainable Development at Columbia University in the United States.
At a press briefing in New York, Foreign Minister Dr. AK Abdul Momen said that several organizations, including SDSN, have rewarded the Prime Minister for Bangladesh's achievements from 2015 to 2020. The committees have analysed and evaluated the situation in Bangladesh - The country has achieved amazing success. The Prime Minister dedicated this award to the people of the country.
The Foreign Minister said, "This award recognizes our efforts to achieve the SDGs (Sustainable Development Goals). The main point of SDG is that no one will be left behind. We will continue our efforts so that no one is left behind in the journey of progress and prosperity."
On the occasion, SDSN President Professor Jeffrey David Sachs lauded the Prime Minister's leadership in achieving the Sustainable Development Goals despite the coronavirus situation. At that time, the host introduced the Prime Minister as 'Jewel in the Crown of the Day'. SDSN was established in 2012 under the auspices of the UN Secretary General. SDSN helps to enhance scientific and technological expertise in realistic solutions for sustainable development. SDSN works closely with UN agencies, multilateral financial institutions, and private companies.
The Prime Minister arrived in New York on Sunday afternoon (September 19) on a Biman Bangladesh Airlines to attend the 76th session of the UN General Assembly. Earlier on Friday (September 17) morning, she left Dhaka for New York via Finland.