Bangladesh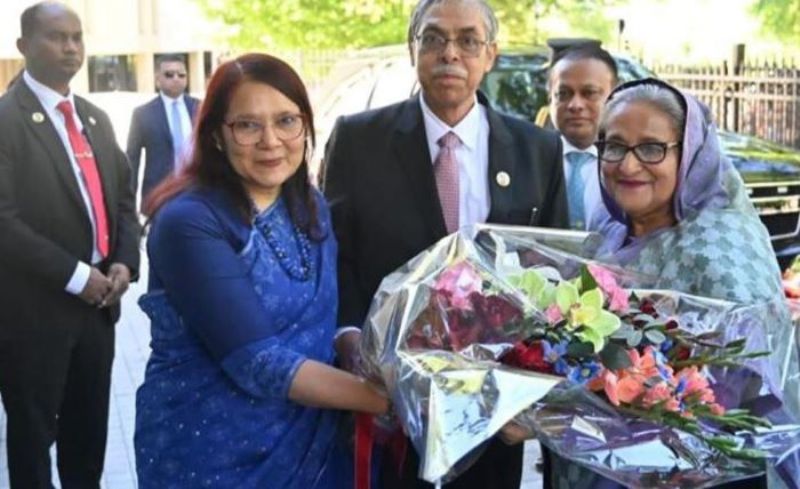 PID
Prime Minister Hasina urges citizens to work together to bolster country's image globally
Own Correspondent, Dhaka, 30 September 2023: Prime Minister Sheikh Hasina has urged the officials of Bangladesh Embassy in Washington DC to work with sincerity and patriotism to strengthen the country's image. She said, to improve the image of the country, you have to perform your duties with utmost sincerity, professionalism, honesty and patriotism.
In a circular issued in Dhaka on Friday, it is said that the Prime Minister made this call during an exchange of views with officials during a visit to the Bangladesh Embassy in Washington DC on Wednesday, September 27.
There he visited various areas of the embassy including Shaheed Minar and Bangabandhu Corner. When Sheikh Hasina arrived at the embassy, Bangladesh Ambassador to the United States Mohammad Imran welcomed her with a bouquet of flowers.
The Prime Minister paid his respects by placing wreaths at the bust of Father of the Nation Bangabandhu Sheikh Mujibur Rahman located at Bangabandhu Corner of the Embassy.
Foreign Minister Dr. AK Abdul Momen, Ambassador-at-Large Mohammad Ziauddin, Foreign Secretary Masood Bin Momen, Prime Minister's Office Secretary Salahuddin and other senior officials accompanied the Prime Minister.