Bangladesh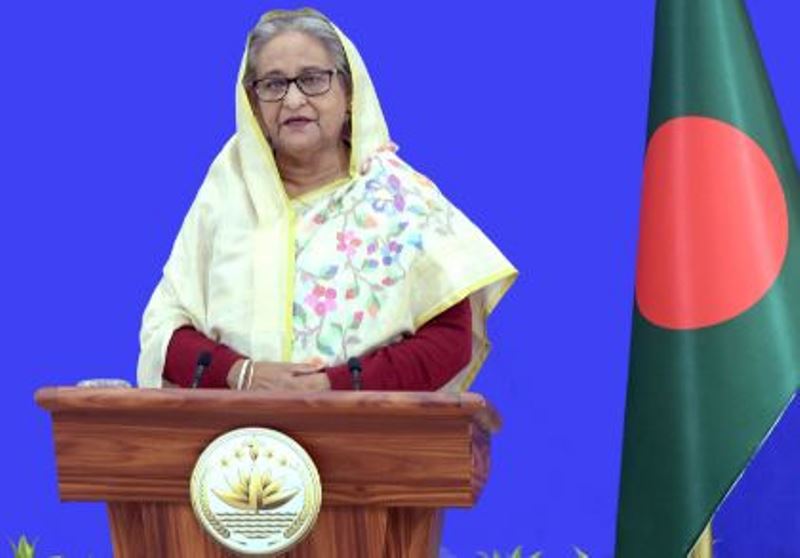 PID
Prime Minister lists six proposal to stop the arbitrary use of antibiotics
Dhaka, January 27: Prime Minister Sheikh Hasina has stressed the need for immediate global action to reduce the reckless and indiscriminate use of antibiotics to effectively address the ineffectiveness of silently developed antibiotics that could endanger mankind.
In a recorded speech at the inaugural meeting of the One Health Global Leaders Group on Anti-Microbial Resistance (AMR), the Prime Minister put forward six proposals to tackle antimicrobial resistance (AMR).
Her proposals include strict enforcement of the law, banning the sale of antimicrobial products without a prescription, and intensifying research on AMR.
The meeting was organized by the World Health Organization (WHO), the Food and Agriculture Organization (FAO) and the OIE in Geneva, Switzerland. The Prime Minister of Barbados, Mia Amor Mottley, the Director General of the WHO, FAO and OIE spoke on the occasion.
Sheikh Hasina, vice-president of the One Health Global Leaders Group, said, "Despite the decision of the World Health Council in 1998 to fight this resistance to antibiotics, we are still a long way from reaching our goal of countering this threat." Therefore, we need to increase and ensure the rational use of antimicrobial agents in human health, livestock, fisheries and agriculture."
"I would like to advise strictly enforcing laws and regulations to control the production, quality control and marketing of antimicrobial agents to prevent potential catastrophes," she said.
In the second proposal, the Prime Minister said there is a need to set up laboratory-based surveillance systems for humans, fish and animals.
In the third proposal, she said, the sale of antimicrobial products without the prescription of an authorized person needs to be strictly prohibited.
In her fourth proposal, the Prime Minister suggested strengthening basic, experimental and operational research, including allocating the necessary budget in the field of AMR.
In her fifth suggestion, she proposed building high-level advocacy, communication and social mobilization systems to control the unnecessary use of antimicrobial products.
In the sixth resolution, Sheikh Hasina said the political will and vision of global leaders is important for the strict implementation of policies and the involvement of FAO, OIE, WHO, UN Environment Agency and other international and regional organizations is essential.