Bangladesh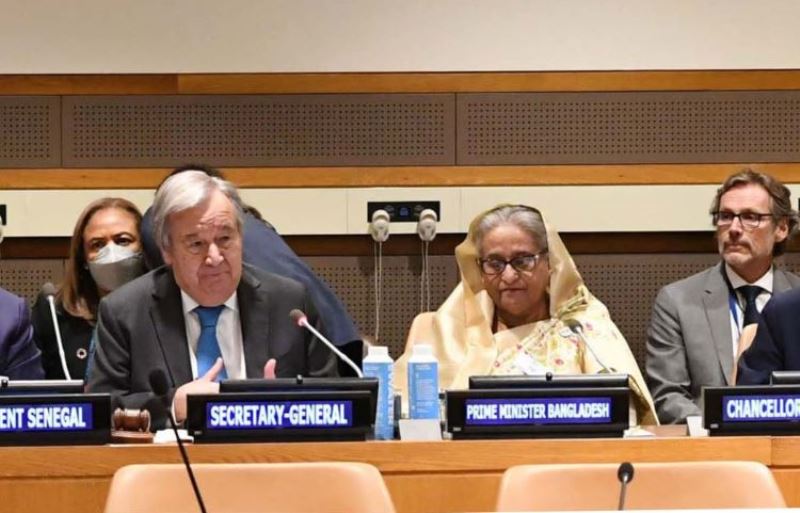 Photo: PID
Prime Minister's six-point proposal to end war
Own Correspondent, Dhaka, Sept 22: Prime Minister Sheikh Hasina has stressed the need for global solidarity to find a way to end the war in Ukraine, which has crippled the economy. The coronavirus has added new challenges to the process of overcoming the situation and implementing the SDGs. Prime Minister Sheikh Hasina put forward a six-point proposal to end the war at the UN Secretary General's round table meeting with Global Crisis Response Group (GCRG) champions on Wednesday (September 21).
She said, "We have to find a way to end this bloody and catastrophic crisis. Various sanctions and counter-sanctions are deeply affecting people around the world, especially in countries directly involved in the conflict, and more so in the developing and least developed world."
"The continuing and widening impact of the war in Ukraine and other concurrent crises have caused deep wounds to our society and economy, especially in developing countries, and have added many new challenges to our efforts to overcome the coronavirus situation and the implementation of the SDGs."
Sheikh Hasina said, "However, no single country can face these challenges alone. What we need most right now are strong political commitment and global solidarity. I would like to share with you some specific thoughts on this."
In the first proposal, the Prime Minister said that world leaders have to deal with global financial and economic instability. The G-7, G-20, OECD, IFIs, and MDBs must now step up efforts to address immediate concerns.
Secondly, "We applaud you for your important role in initiating the Secretary-General's Black Sea Grain initiative. We are committed to supporting any future initiatives to protect food production and distribution systems from damage during the conflict."
In the third proposal, Sheikh Hasina said that it is essential to ensure the fair share of low and middle-income countries in world trade and export earnings.
Fourth, investment in the agricultural sector of developing countries should be increased to increase productivity and effective food storage and distribution systems. "We need more G2G and B2B cooperation in terms of technical assistance, increased ODA, and concessional financing to create new business opportunities."
Fifth, the global framework for climate cooperation needs to be made more effective and equitable.
In the sixth proposal, the Prime Minister said, "We want to work with our partners to create the necessary incentives to tackle the problem of energy security in a comprehensive way."