Bangladesh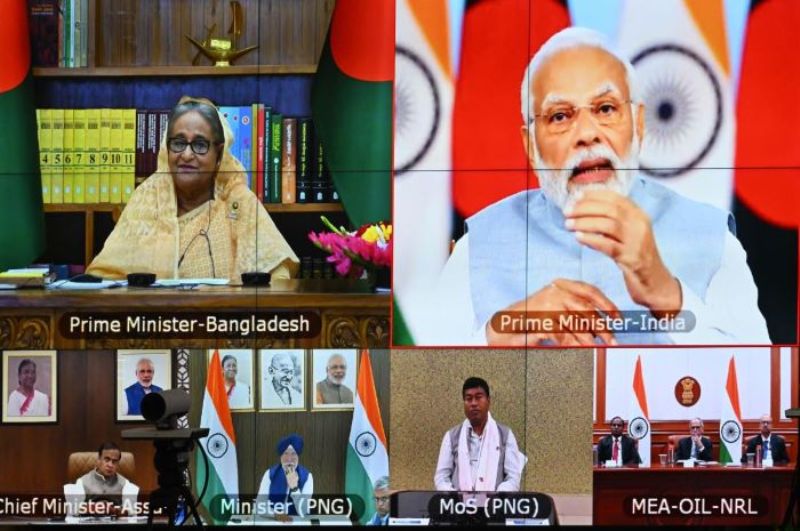 Collected
Prime Minister Sheikh Hasina and Indian counterpart Narendra Modi inaugurate the Bangladesh-India Friendship Pipeline
Dhaka, March 18: Prime Minister Sheikh Hasina and her Indian counterpart Narendra Modi jointly inaugurated the first cross-border Maitree oil pipeline to supply diesel to Bangladesh.
Prime Minister Sheikh Hasina inaugurated the India-Bangladesh Friendship Pipeline today Saturday 18 March afternoon from Gana Bhavan and Indian Prime Minister Narendra Modi through video conference from India.
Bangladesh Petroleum Corporation (BPC) officials said that India will export diesel to Bangladesh through the 130 km India-Bangladesh Maitree Pipeline (IBFPL) built at a cost of about 3.46 billion Indian rupees taken from the Indian Line of Credit (LoC).
The pipeline stretches 125-km into Bangladesh territory and 5-km into India. The pipeline has an annual transportation capacity of 1 (one) million metric tons (MMTPA) of high-speed diesel (HSD). It will initially supply high speed diesel to seven districts of northern Bangladesh. Bangladesh used to import diesel from India by rail until now.
According to government sources, a long-term agreement was signed in 2017 to import diesel from India to Bangladesh through a pipeline from Siliguri in West Bengal to Parvatipur in Dinajpur to Meghna Petroleum Depot.
India-Bangladesh partnership pipeline will create a sustainable, reliable, cost-effective and environment-friendly system of HSD transportation from India to Bangladesh. It will further strengthen cooperation in energy security between the two friendly neighbours.