Bangladesh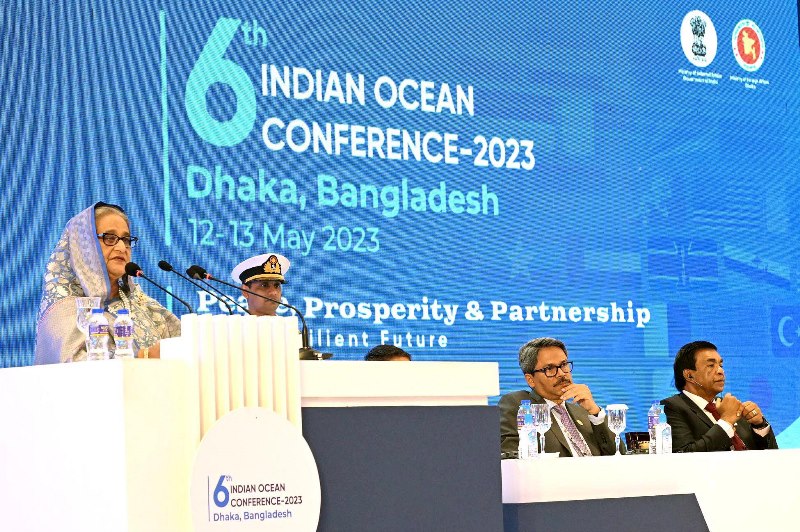 Photo: PID
Prime Minister wants global support for Rohingya repatriation
Dhaka, May 13: Prime Minister Sheikh Hasina emphasized on strengthening mutual trust and respect and building partnerships among the countries of the Indian Ocean region. She also called for strengthening maritime diplomacy for a stable future in the region.
The Prime Minister said that due to its geographical location, the Indian Ocean is significant not only for Bangladesh, but for all countries in the region. "I would like to emphasize six priorities at this conference. We recently formulated the Indo-Pacific Outlook."
She said these while inaugurating the two-day Indian Ocean Conference (IOC) on Friday evening. At this time, the Prime Minister sought active global support for the repatriation of Rohingyas in a sustainable manner.
The conference was organized by the India Foundation in collaboration with the Ministry of External Affairs, Government of Bangladesh. Ministers and State Ministerial delegations of 25 countries including the President of Mauritius and the Foreign Minister of India are attending the conference. Besides, about 150 foreign guests including representatives of D-8, SAARC and BIMSTEC are participating in the conference. However, Myanmar was not invited to the conference.
Presenting the proposals, the Prime Minister emphasized on strengthening mutual trust and respect between countries to build a strong partnership to ensure stability for a sustainable future in the Indian Ocean.
The Prime Minister said that the countries of the Indian Ocean region need to develop maritime diplomacy for their development, through which it will be possible to ensure a prosperous future. Climate risks in many countries in the region remind us of the need to increase cooperation to reduce the impact of natural disasters.
On this occasion, the Prime Minister emphasized the need to strengthen existing arrangements for maritime safety and security in the Indian Ocean, including emergency response, search and rescue operations at sea. Also called for upholding the exercise of freedom of navigation and overflight in accordance with international law.
Calling for strengthening the culture of peace and people-centered development in the region, Sheikh Hasina said that due attention should be given to women, who constitute half of the world's population, to build a peaceful, just and inclusive society in the region.
She also said, for this purpose, it is necessary to strengthen the open, transparent, rules-based multilateral system. which will facilitate equitable and sustainable development in the region and beyond through inclusive economic growth.