Bangladesh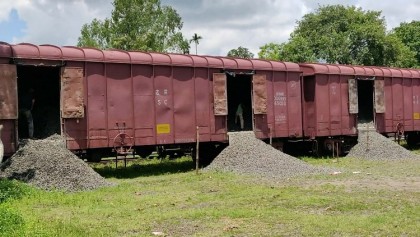 File Picture
Quick wit by three save freight train from accident
Dhaka, October 24: Three youths prevented a train accident by showing a red T-shirt. The incident took place around 4:30 pm on Friday (October 23), 120 feet south of the Kellapara railway bridge at Santahar and Raninagar stations in Adamdighi, Bogra.
Seeing the broken railway line, the three youths showed the red T-shirt and stopped the freight train. As a result, the train was saved from the accident by the intelligence of three young men.
Sujaudaula, the driver of the freight train, said the three youths were signaling to stop the train with red vests.
Seeing the red cloth, he stopped the train.
Their bravery and foresight saved the train from an accident.
The three brave youths are Sarwar, son of Jabed Pramanik of Pallagram of Santahar Union of the upazila, Roni Hossain, son of Nazrul Islam of the same village and Naeem Hossain, son of Alam.
They said that like every day, they were walking along the railway line in the afternoon. As they approached the Kellapara railway bridge, they saw a broken railway line. Within a few minutes they saw a train coming from the front.
They knew the train would stop if they show red. But even without the red cloth, one was able to save the train from an accident by lifting the T-shirt he had.
Locals Ibrahim, Omar Farooq and Lokman said several trains run on the line till noon. The incident happened suddenly after noon. They said that if these three young men did not know about the matter, there would have been a big accident.
Habibur Rahman, transport inspector of Santahar railway station, said an eight-inch railway line collapsed in the Kellapara railway bridge area near Santahar junction station on the Parbatipur-Khulna railway line. Upon receiving the news, repair work of the damaged part was started. Due to which the train is closed from afternoon to 8 pm. After two hours of trying to repair the line, the train was back to normal.
Afzal Hossain, senior deputy assistant engineer of Santahar Railway, said that the thorny line was used by someone to cause a sabotage incident. Upon receiving the news, the PWI department changed the railway line in that part.