Bangladesh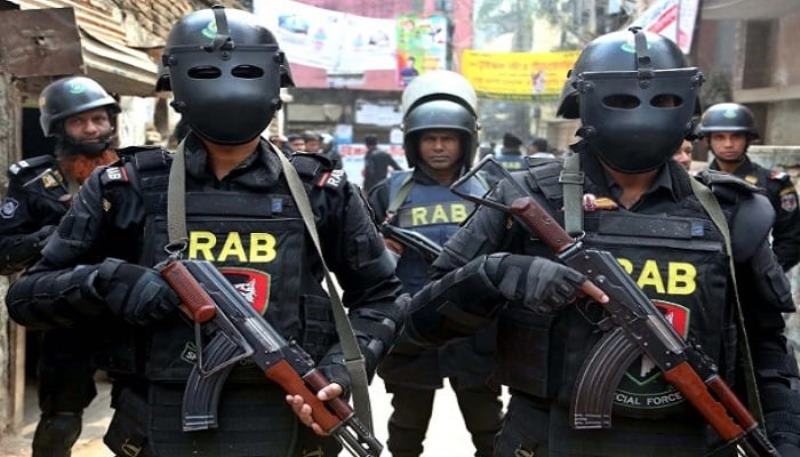 Photo: Collected
RAB arrests 4 members of new terrorist group
Own Correspondent, Dhaka, Nov 4: RAB has arrested four people, including the chief coordinator of finance and migration affairs of the new militant organization 'Jama'atul Ansar Fil Hindal Sharqiya'.
They were arrested from Laksam in Comilla on Thursday (November 3) night.
Commander Khandaker Al Moin, director of RAB's legal and media wing, said that in the last three rounds, several youths and new militant organization Jama'atul Ansar Fil Hindal Sharqiya, who were involved in militancy, were arrested. Based on their interrogation and intelligence information, four people were arrested, including the chief coordinator of financial affairs and the chief coordinator of migration affairs of this organization. Preliminary interrogation of the accused is going on.
RAB said in a press conference the day after the arrest of seven youths, who had left their houses, on October 5, that some leaders and activists of various levels of banned militant organizations in Bangladesh, especially JMB, Ansar Al Islam and Huzi, got together and started the activities of this radical militant organization. From the year 2017, the attempt to bring the youth to this new platform started by inciting militancy. In 2019, the new militant organization was named Jama'atul Ansar Fil Hindal Sharqiya. Recently, more than half a hundred young people left their homes from Comilla and other parts of the country and allegedly migrated. Leaders from JMB, Navya JMB, Hizb ut Tahrir and other banned militant organizations are leading the military training for armed struggle including motivation, and training.
Since 2006, Shamin Mahfuz had been planning to create a militant network based in the hilly areas. When he was finally released on bail in 2017, he looked for a training camp in the hills. Then he came to know that there is an armed organization called 'Kuki-Chin National Front' (KNF) in the hilly area. The head of that organization is Nathan Bom. Nathan Bom is also a close university friend of Shamin Mahfouz. Shamin and Nathan were brilliant students of Dhaka University.
According to intelligence agencies, one of the reasons for choosing the mountainous region as a training camp is to maintain the security and privacy of its members.