Bangladesh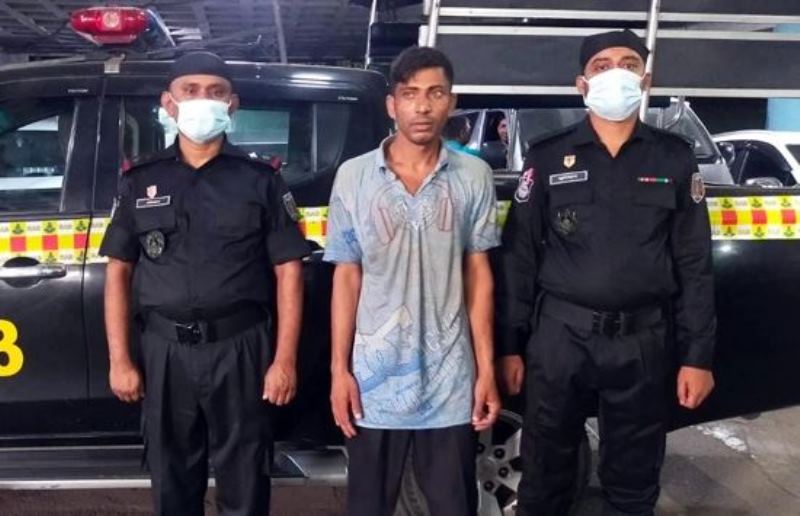 Photo: Collected
RAB arrests murder case accused absconding for 12 years
Own Correspondent, Dhaka, Nov 4: Kazim Uddin was murdered in Mymensingh in 2010 due to a property dispute. A case was filed after the incident. Main accused in the case was Md. Sohel Mia (35). Then he escaped. Later, he got arrested and went to jail. After getting bail, he fled to Malaysia. He was a fugitive in this country and abroad for 12 years. Finally, he was arrested by RAB early on Thursday (November 3) from Motijheel in the capital.
According to RAB-3, Sohail Mia fled to the house of her relatives after the murder. In 2013, he was released on bail after serving 10 months in jail after filing the charge sheet. Then in the middle of 2014, he crossed into Malaysia illegally through a broker. There he worked in a welding workshop. But due to visa complications, he had to return to the country in 2019.
According to RAB-3, the deceased Kazim Uddin and Sohail Mia were residents of the same area. There was a dispute between their two families over the possession of the family property. Because of this, the victim Kazim Uddin also filed a civil case. Then on December 29, 2010, Kazim Uddin was killed in a dispute over bamboo cutting. On that day, he was severely beaten by Sohail Mia and other accused in the case.
At one stage, Sohail Mia hit Kazim Uddin on the head with a bamboo stick. Kazim Uddin's brain came out. He was taken to Mymensingh Medical College Hospital with serious injuries and was pronounced dead by the doctor on duty.
Kazim Uddin's nephew Md. Nayan Mia filed a murder case in Gouripur police station with Sohel Mia as the main accused.