Bangladesh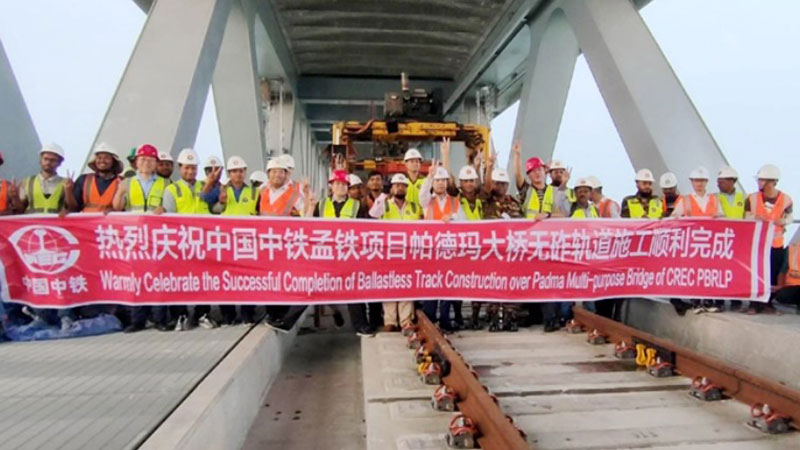 Photo: Collected
Rail line construction work on Padma Setu completed
Dhaka, March 30: The stoneless railway line construction on Padma Setu has been completed. On Wednesday (March 29) around 5:30 pm, 0.15 km of the project was completed. It has connected Jazira end with Mawa on railway road.
According to sources related to the project, trains are scheduled to run over the Padma bridge on April 4. After the construction of the Dhaka-Jessore railway at a cost of about Tk 40 thousand crores, the connection between the capital and the southwestern region will be easier and the economic scenario will change. Welding work on the remaining seven meters of the Padma Setu was completed on Wednesday.
The last sleeper arrived in Bangladesh by air from China on Tuesday. At night, the work of placing the sleeper begins. Perfectly scaled at the end is placed on the bridge. Casting on the sleeper begins when the temperature drops.
Syed Shaukat Ali, track engineer of Dhaka-Mawa railway line, said that there was a need to measure different dimensions. We are doing that. These measurements are taken through GPS. He said that the length of the Padma Rail Bridge is 6.68 km, including the main bridge of 6.15 km and the viaduct bridge on both sides. 11,140 sleepers have been installed on the main bridge. Except for the 8 steel sleepers of the movement joints, the rest are made of concrete. CSC Bangladesh Army's Construction Supervision Consultant (CSC) is working on the Padma Bridge Rail Link Project. Apart from Padma Bridge, 32 railway culverts, 37 underpasses and 13 railway bridges have been completed on the project's total 172 km level crossing-free railway.
Zahurul Haque, Senior Engineer of Padma Main Bridge and Viaduct, said that 30 kilometers of railway line from Dhaka to Jessore is unstoned and the rest is blasted railway line. Meanwhile, the casting of the remaining seven meters above the Padma Bridge is completed. Construction of this railway without stones will cost more but it will be sustainable. There will be no jolts on this railway.