Bangladesh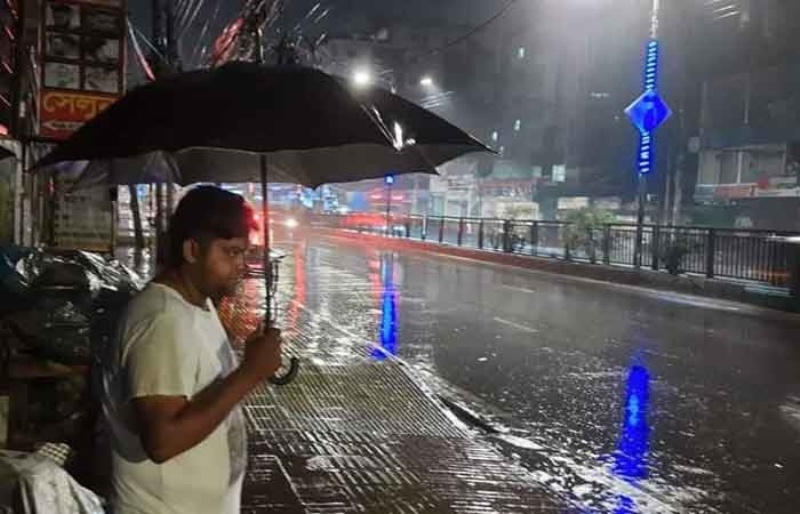 Collected
Rain in Dhaka, other areas to experience same
Dhaka, May 25: After several days of scorching heat, it rained in almost all areas of the capital after 12:15 pm on Wednesday. The temperature has dropped and comfort is prevailing. In the next 24 hours, there may be rain with temporary gusts or gusts in Dhaka and many other parts of the country. However, this rain will not continue. Intermittent can be of mild to moderate type. The Meteorological Department has given this information.
In the last 24 hours, the highest temperature in the country was 37.6 degrees Celsius in Jessore. Among the divisional cities, Dhaka recorded maximum temperature of 35 degrees Celsius, Mymensingh 34.6 degrees Celsius, Chittagong 32 degrees Celsius, Sylhet 35.7 degrees Celsius, Rajshahi 36.7 degrees Celsius, Rangpur 35.5 degrees Celsius, Khulna 37.5 degrees Celsius and Barisal 36 degrees Celsius.
According to the Meteorological Department, the increase in light pressure extends from Bihar through West Bengal and the southern part of Bangladesh to the North Bay. The forecast for the next 24 hours said that there may be rain or thundershowers in many places of Rangpur, Rajshahi, Dhaka, Mymensingh, Chittagong and Sylhet divisions and some parts of Khulna and Barisal divisions.
Regarding heat flow, it is said that mild heat flow is flowing over Khulna division including Gopalganj, Chandpur, Noakhali, Feni, Pabna, Rajshahi, Barisal and Patuakhali districts and it may decrease in some places. Day and night temperatures may drop slightly across the country.