Bangladesh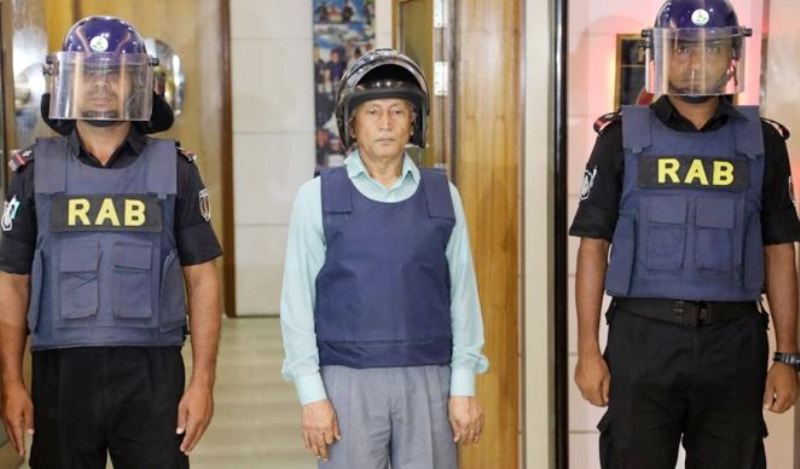 Collected
Rajab Ali sentenced to death for 9 months of genocide
Dhaka, July 3: KM Aminul Haque alias Rajab Ali, 69, who was sentenced to death for war crimes, had been a fugitive for a long time. The RAB arrested him last Saturday (July 2).
RAB says that Rajab Ali took a direct stand against Bangladesh during the great war of liberation in 1971. He was involved in killing innocent people in Kishoreganj, Bhairab, Brahmanbaria and Habiganj areas. As an accomplice of the Pakistani aggressors, Rajab Ali committed crimes against humanity from March 26, 1971 to December 16 of the same year, including genocide and torture.
While studying at a college in Bhairab, he was the president of the college branch of the Pakistan Islamic Students Union. During the great war of liberation he went to the Pakistani army camp in Bhairab and took up arms training. He then formed the Al-Badr force to assist the Pakistani forces. He then served as the Kishoreganj district commander of this force.
RAB Director Legal and Media Wing Commander Khandaker Al Moin said this at a press conference at Karwan Bazar Media Center in the capital on Sunday (July 3). He said that on November 5, 2014, seven charges of crimes against humanity were brought against Aminul Haque at the International Criminal Tribunal. One year later, on December 27, 2015, the investigation report was submitted. Later, on May 18, 2016, the tribunal issued an arrest warrant against Rajab Ali. Then on November 5, 2018, the court sentenced Rajab Ali to death.
Rajab Ali surrendered to the joint forces on 18 December 1971. In 1972, three cases were filed against him under the Brokers Act at Ashtagram police station. He was sentenced to 40 years in prison. But he was released from Dhaka Central Jail in 1981 after serving only 10 years on special pardon by the President.
Commander Khandaker al-Moin said that Aminul, who was arrested in 1982, had been released from prison and had traveled to Pakistan and the Middle East several times. He moved to Dhaka in 1997. He went into hiding in 2014 when charges were filed against him at the International Criminal Tribunal for the former Yugoslavia.
Arrested Rajab Ali published two books, 'Ami Albadar Balchi' and 'Dui Palashi Dui Mirzafar'. Where the great War of Liberation, Bangabandhu and 15th August are presented in a negative way. The government then banned the book and a case was filed against him at the Boalia police station in Rajshahi.