Bangladesh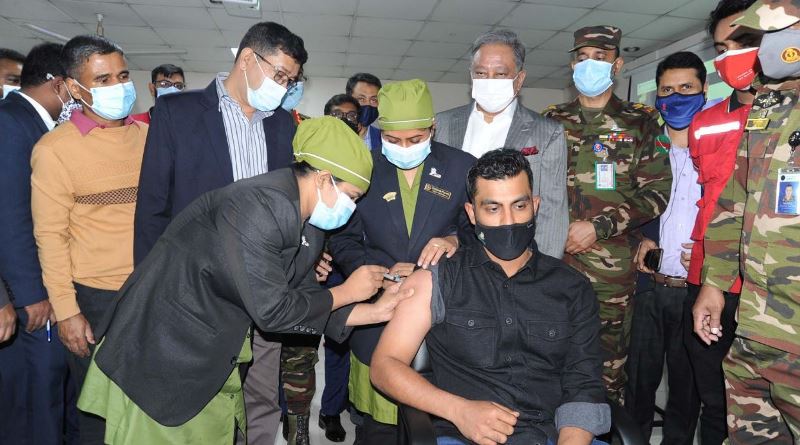 PID
Reluctance to get vaccinated: Only 42,360 people got jab in 24 hours
Dhaka, April 2: Ongoing vaccination activities across the country to curb corona infection have come to a halt. In the beginning, more than one lakh to one and a half lakh people were vaccinated daily, but in the last 24 hours, only 42,360 people have been vaccinated against the coronavirus. Among them are 24,296 males and 18,064 females. Three people have reported symptoms of adverse reactions to the vaccine.
Thus, the total number of those vaccinated in the country stood at 54,12,791 people. Among them 33 lakh 63 thousand 594 males and 20 lakh 49 thousand 198 females.
So far, 936 people have reported adverse reactions to the vaccine and 68,38,815 people have registered for vaccination.
This information was given in a press release signed by the Director of the Department of Health, Prof. Dr. Mizanur Rahman on Thursday (April 1).
In the last 24 hours, 11,192 people in Dhaka division, 2,923 people in Mymensingh division, 8,581 people in Chittagong division, 6,333 people in Rajshahi division, 6,497 people in Rangpur division, 3,497 people in Khulna division, 748 in Barisal division and 2,589 people in Sylhet division were vaccinated.
The first pilot vaccination program in the country started on January 27. Runu Veronica Costa, a senior staff nurse at Kurmitola General Hospital in the capital, received the first vaccination on the same day. In the first phase, hundreds of people were vaccinated experimentally. After that, the vaccination program started from February 7 all over the country, including the capital.