Bangladesh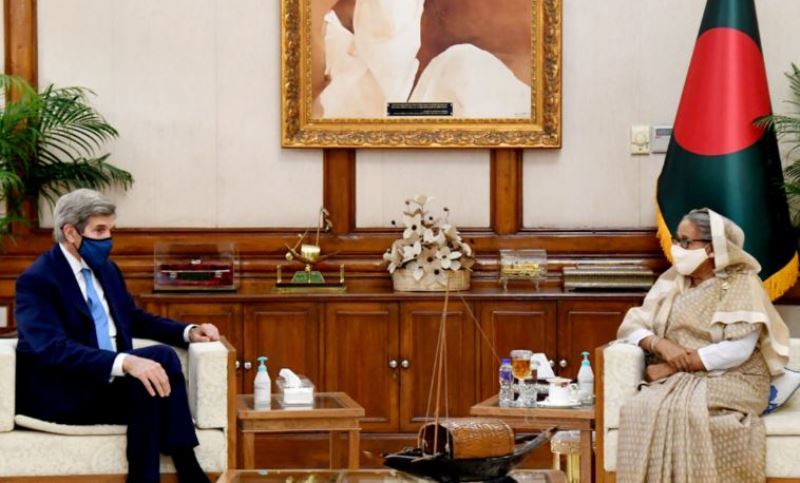 PID
Return of US to Paris Agreement will give new impetus to climate diplomacy: PM Hasina
Dhaka, April 10: Prime Minister Sheikh Hasina has said the return of the United States to the Paris Agreement on Climate Change will give a new impetus to climate change diplomacy. "The return of the United States to the Paris Agreement will give a new impetus to climate diplomacy," she said.
The Prime Minister made the remarks during a courtesy call on Prime Minister Sheikh Hasina at Ganobhaban on Friday afternoon. Later, PM's Press Secretary Ihsanul Karim briefed reporters.
Sheikh Hasina thanked US President Joe Biden for inviting her to attend the Virtual Leaders Conference to be held on April 22-23, 2021. John Kerry also thanked the Prime Minister of Bangladesh for accepting the invitation. At least 40 countries will participate in the conference.
During the meeting, Kerry said that if Bangladesh wants, they can also vaccinate Bangladesh with Covid-19. Because, in the United States, there will be a surplus of vaccines in mid-summer.
The special envoy of the US president emphasized the use of alternative energy sources, including hydropower as well as solar power and renewable energy, to reduce the risk of pollution. Kerry said U.S. companies are interested in partnering with others to invest in the renewable energy sector.
He added that the United States would provide মিল 2 million in addition to the মিল 1 million in the Green Climate Fund. Kerry also praised the role of the Prime Minister of Bangladesh in the issue of climate change.
The Prime Minister said those who are not emitters (carbon) and whose contribution to emissions is negligible, will also be affected along with the risky countries. However, he said that his country needs energy for development.
The Prime Minister said they have talked with India, Bhutan and Nepal to set up hydropower plants on a regional basis on a bilateral or tripartite basis. He said the country has 5.6 million solar connections, adding that solar energy is needed for irrigation.
The Prime Minister presented John Kerry with a book on Bangabandhu's prison diary and unfinished autobiography (English version) and a book entitled Secret Documents of Intelligence Branch on Father of the Nation, Bangladesh: Bangabandhu Sheikh Mujibur Rahman.
Foreign Minister Dr. AK Abdul Momen, Chief Secretary. Ahmed Kaikaus and the US Ambassador to Bangladesh Earl R. Miller was present at the time.