Bangladesh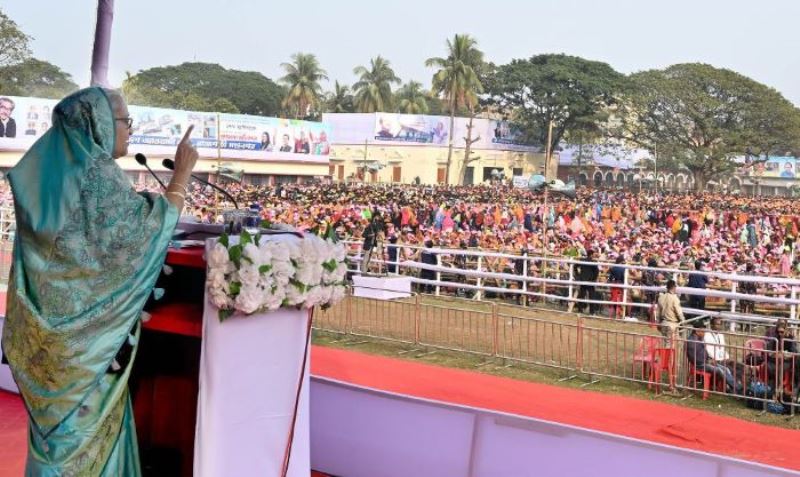 Photo: PID
Returned to Bangladesh thinking about the people of Bengal, not to escape: PM
Dhaka, January 30: Prime Minister Sheikh Hasina said that she had returned to the country thinking about the people of Bangladesh, not to escape the nation.
She said this in the speech of the chief guest at the Rajshahi District and Metropolitan Awami League public meeting on Sunday.
Sheikh Hasina said that the Father of the Nation Bangabandhu Sheikh Mujibur Rahman was killed with his family on August 15, 1975. Being abroad, we two sisters survived. I came back to the country at the risk of my life only to prevent the conspiracy of Ziaur Rahman with the aim of improving the fortunes of the people of the country.
The Prime Minister said, "Zia, Ershad, Khaleda Zia have not provided food security to the people of this country. Awami League has made the country self-sufficient in food. BNP says that if it comes to power, you will not get a chance to escape. I want to say, Awami League never runs away. It is your leaders who run away. The leader who ran away from the country on bond during the caretaker government, the leader who was sentenced for corruption today talks big. Tk 40 crore smuggled by BNP-Jamaat has been brought back to the country."
The PM said, "Rajshahi had been neglected for a long. You voted Awami League here. We have developed. Development of Tk 10,660 crore has been done in Rajshahi. Work of Tk 4,000 crore is going on in Rajshahi. The works inaugurated today are my gift to the people of Rajshahi."