Bangladesh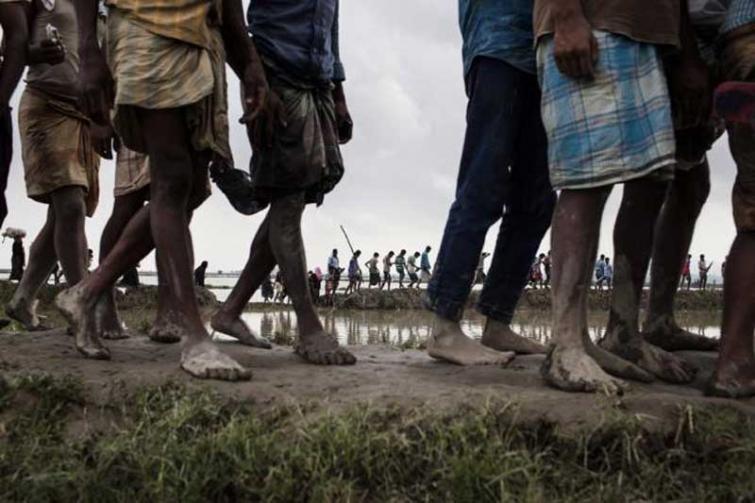 UN website
Rohingya refugees leaving Cox Bazaar camp
Dhaka, July 18, 2021: Rohingyas are fleeing from Cox's Bazar without agreeing to move from one camp to another.
Armed police battalion and army detained 36 Rohingyas from Teknaf on July 15 while fleeing. The Rohingyas who tried to flee from Teknaf Shamlapur Camp No. 23 to Jamalbazar Camps 19, 20, 18 and 6 were detained from Shamlapur Ghat and Lamar Bazar.
Earlier in the day, 11 people were detained from Shamlapur Boat Ghat and Lamar Bazar while trying to flee in the early hours of July 15. Earlier, members of the Armed Police Battalion (APBN) and the army detained a total of 36 Rohingyas, including 25 others.
18 Armored Police Battalion Commander (SP) Tariqul Islam said this.
For several months now, the government has been relocating Rohingyas living in Camp No. 23 of Shamlapur in Teknaf to other camps. For this reason, the Rohingya youths of Shamlapur camp are fleeing and taking shelter in a boat on the beach of Seje Sagar. Meanwhile, on receiving the news, 17 APBN and Army patrol team conducted a joint operation at Lamar Bazar and Nauka Ghat on the beach adjacent to Camp No. 23 Shamlapur.
Later, 11 Rohingyas from Shamlapur North Boat Ghat and South Boat Ghat who had gathered for illegal fishing in the sea in violation of government orders were detained. They were claiming to be in jail.
Earlier, on July 11, two foreign Rohingyas were detained from Shamlapur camp in a joint operation.
According to 18 APBN sources, fishing in the sea is now prohibited as per government instructions. Even then the Rohingyas are going to the sea without heeding the rules and regulations. The concerned authorities of the boat association have been instructed not to go fishing in the sea in violation of the government ban. Those who are going to sea are being detained even after giving instructions that legal action will be taken against them if anyone does not follow these instructions.