Bangladesh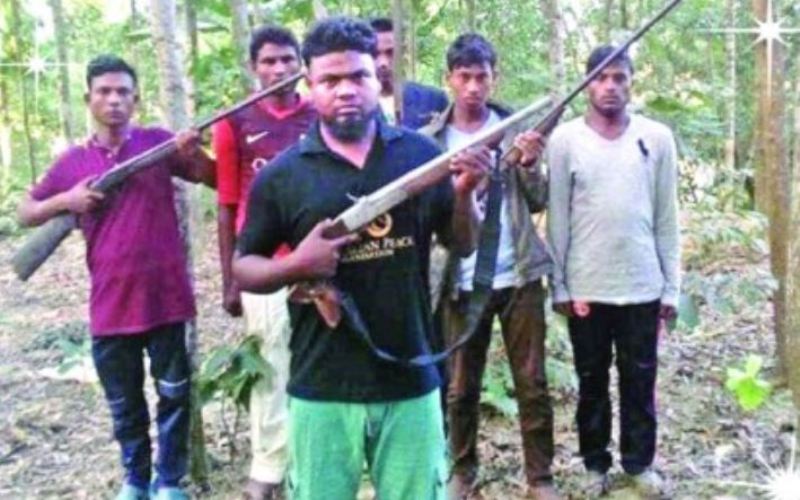 Collected
Rohingya terrorists making weapons in refugee camps
Dhaka, November 9: Armed terrorists want to dominate 34 Rohingya camps in Ukhia-Teknaf in Cox's Bazar. So in the darkness of the night there is a regular exercise with arms. In order to supply these weapons, an illegal weapons factory has been set up in the hilly area of ​​the camp. Maheshkhali artisans used to work in these factories but now only trained Rohingya artisans are making weapons. Law enforcement has information about several such factories.
In the early hours of Monday (November 8), RAB arrested three Rohingya craftsmen with 10 weapons and weapons-making equipment from one such factory.
They also found a weapons factory in a Rohingya camp on October 5 last year. Two weapons makers were also detained from there. According to the information provided to them, three indigenous weapons, two rounds of ammunition and a large quantity of weapons making equipment were recovered. The arrested are Anwar (50) and Ekhlas (32), residents of Maheshkhali upazila of Cox's Bazar.
However, the artisans of the arms factory found on Monday are Rohingya nationals. They are Baitullah (19), son of late Azizur Rahman of Kutupalong Camp C-1G block, his brother Habib Ullah (32) and Mohammad Hasun (24) son of Zahid Hossain of G block of the same camp.
Meanwhile, the Rohingyas have made their own weapons, which has made the administration think. Because if they can make weapons themselves, they will be able to stockpile more.
RAB says Mohibullah, a Rohingya leader, was killed on September 29 at the office of the Arakan Rohingya Society for Peace and Human Rights (ARSPH) in Lumbasia camp in Kutupalong Mega Camp, Ukhia, and six others at Darul Uloom Nadwatul Ulama Al-Islamia Madrasa in Balukhali on October 22. These incidents caused unrest throughout the camp. The RAB's intelligence department is investigating the cause of these killings. In the meantime, they have found several more arms factories in the deep hills of Kutupalong and Palangkhali camps in Ukhia.
Cox's Bazar RAB-15 CPSC Commander Major Mehedi Hasan told Dhaka Post, "Originally, there were craftsmen hired from Maheshkhali in the previous factory. But there are three Rohingyas in the new factory. Those are more trained than the craftsmen of Maheshkhali. Due to which we have to take a new plan."