Bangladesh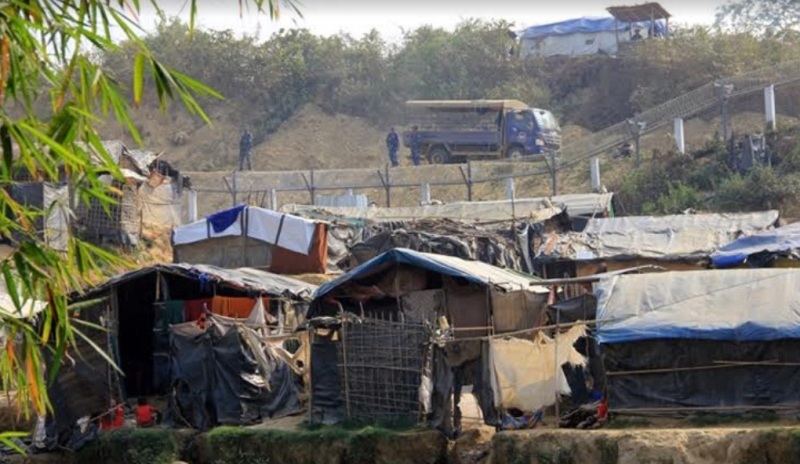 Photo: Collected
Rohingya youth killed at Tambru border by mortar shells shot from Myanmar
Own Correspondent, Dhaka, Sept 17: Four mortar shells fired by the Myanmar Army landed at Tambru Konarpara border in Naikshyongchari of Bandarban. A young man in the Rohingya camp on the zero line was killed, while six others, including a Rohingya child, were injured.
Tambru Rohingya Camp Committee Chairman Dil Mohammad confirmed this to RisingBD.
He said that four mortar shells fired from Myanmar landed near the border around 8 pm on Friday. Three of those fell in the Rohingya camps on the Zero Line and another one landed within the borders of Bangladesh. Six people, including a Rohingya child, were seriously injured. They were rescued and taken to Kutupalong MSF Hospital. Among them, an injured Rohingya youth named Mohammad Iqbal died.
He also said that the injured are 10-year-old Rohingya girl, her mother Zahekun Nahar, Nabi Hossain, Bhullu and Anach. There are Bangladeshis among the injured.
On this border, a Bangladeshi youth was injured in a mine explosion on Friday afternoon, 300 meters inside the Myanmar border of pillar number 35 of Hedmanpara. Injured Annathaing Tanchangya's house is in Tambru Headmanpara of Ward No. 3 of Ghumdhum Union.
Mohammad Alam, a UP member of that ward, said that on Friday afternoon, the Bangladeshi youth crossed the barbed wire near Pillar No. 35 in the Tambru border area and entered Myanmar to smuggle cows. His left leg was amputated below the knee when a landmine exploded there.
Incidentally, tension has been going on at the border for almost a month. The people of Tambru and Baispari areas of Ghumdhum Union of Naikxyongchari Upazila are spending their days in fear due to the sound of various heavy weapons including mortar shells from Myanmar.
On August 28, an unexploded mortar shell landed in Tambru Uttarpara. On the same day, Myanmar army helicopters and warplanes were seen circling the border.
Earlier, on September 3, two shells fired from two Myanmar warplanes and a fighting helicopter fell in Ward No. 8 area of ​​Ghumdhum Union. There were no casualties as those shells were unexploded.