Bangladesh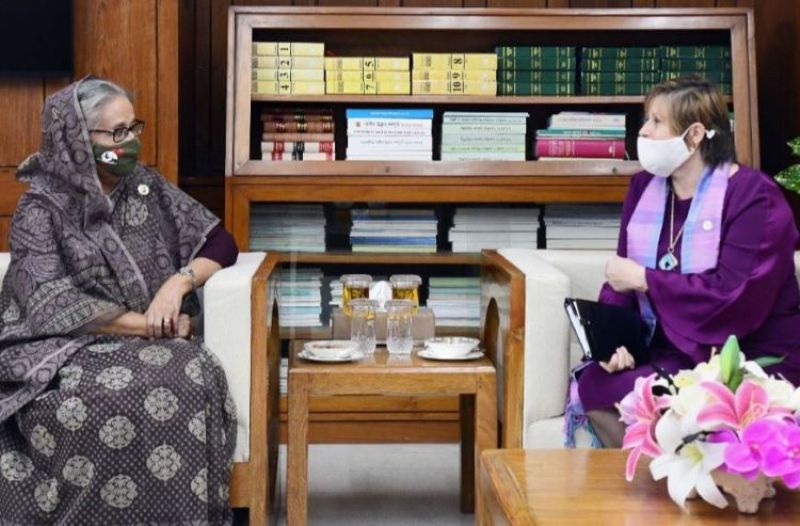 Photo: PID
Rohingyas creating social problems in Bangladesh: PM
Own Correspondent, Dhaka, June 20: Prime Minister Sheikh Hasina has said that Rohingyas are creating social problems in Bangladesh because many of them are involved in drug and women trafficking.
The Prime Minister made the remarks while paying a courtesy call on newly appointed Canadian High Commissioner Lilly Nicholls at the Prime Minister's Office in the capital on Sunday.
After the meeting, Press Secretary to the Prime Minister Ihsanul Karim briefed the journalists.
The Prime Minister said the forcible deportation of more than 1.1 million Rohingyas from Myanmar is a long standing problem for Bangladesh. She said, how long will Bangladesh carry such a big burden. She added that the government has provided temporary shelter to more than one lakh Rohingyas in Bhsan Char where they are getting improved shelter facilities.
The Canadian High Commissioner said that Canada will always provide assistance to Bangladesh. She also mentioned that her country was creating an additional fund for the Rohingya through charity.
The Ambassador expressed his happiness over the celebration of the 50th anniversary of the establishment of diplomatic relations between Bangladesh and Canada. She also lauded the celebration of the golden jubilee of Bangladesh's independence and the birth centenary of Father of the Nation Bangabandhu Sheikh Mujibur Rahman.
The Prime Minister and the Canadian High Commissioner discussed the Russia-Ukraine war and both agreed that war always causes suffering to the people.
The High Commissioner commended Prime Minister Sheikh Hasina for her success in reducing poverty in Bangladesh.
Both said trade between the two countries could increase further. In this context, Sheikh Hasina said Bangladesh is looking forward to more trade and investment with Canada. She said the large Bangladeshi population living in Canada is making a positive contribution to increase people-to-people contacts between the two countries.
Congratulating the newly appointed High Commissioner, the Prime Minister said she hoped that the High Commissioner would take forward his efforts to strengthen the existing excellent relations between the two countries and assured her of all possible assistance in carrying out her duties in Bangladesh.
The Prime Minister said Canada has been supporting Bangladesh since the liberation war. She added that Canada has always been supportive during the Covid-19 period and has been working closely with Bangladesh since the beginning of the pandemic.
"We have a special relationship with Canada," she said.