Bangladesh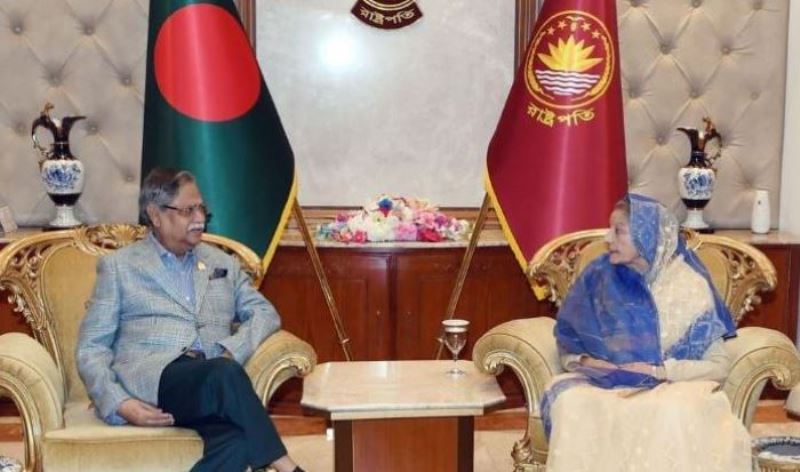 Photo: PID
Rowshan Ershad wants President's cooperation in neutral and peaceful election
Dhaka, Nov 20: Jatiya Sangsad opposition leader and Jatiya Party's main sponsor Begum Roshan Ershad has sought the President's full cooperation in conducting the upcoming 12th Jatiya Sangsad elections in a fair, free, impartial and peaceful manner.
When a Jatiya Party delegation led by Begum Rowshan Ershad paid a courtesy call on President Md. Shahabuddin at Bangabhaban on Sunday, she asked for this cooperation.
Later, President's Press Secretary Md. Zoynal Abedin said, "Opposition Leader in Parliament Rowshan Ershad told the President that his party is 'ready for National Party elections'."
He said, "National Party is an election-oriented party. We have already prepared to participate in the elections."
Rowshan Ershad said, "We respect the constitution. So we welcome the schedule announced by the Election Commission. However, he proposed to the President to extend the election schedule."
As the reason, she said, political parties need more time to prepare for the elections. November 30 is the scheduled last day for filing nominations. On the other hand, the last day for filing income tax returns.
President Md. Shahabuddin said that if the constitution is to be kept intact, elections must be held within the stipulated time. The government will ensure all necessary cooperation to the Election Commission to make the upcoming 12th Parliament elections fair, free and peaceful.
The President thinks that if the country's development is to continue, democracy must also be upheld. The concerned secretaries of the President's office were present during the meeting.