Bangladesh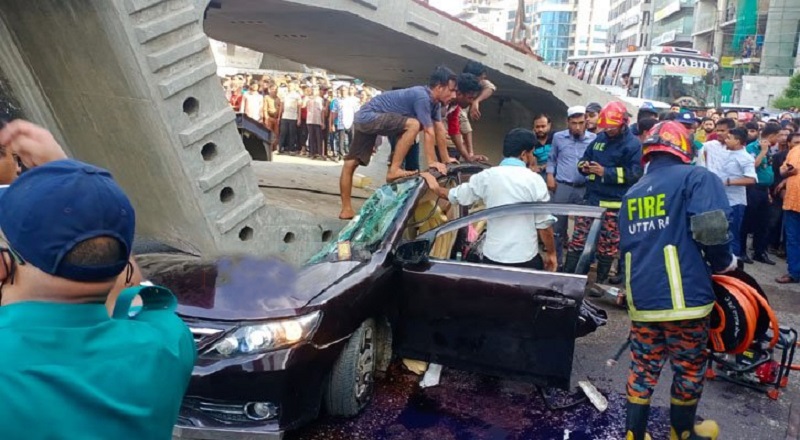 Collected
Saw the hanging girder, never thought it would fall on us: Hridoy
Dhaka, August 16: The henna color has not yet dried on the hand. Bride Riya Moni was supposed to start a new life after a grand wedding ceremony. But the tragic accident took the lives of five relatives including mother, father-in-law. A speechless Riya Moni was seen holding her husband's hand outside Shaheed Suhrawardy Medical College Hospital in the capital to receive the body. The entire mortuary area became heavy with the cries of the relatives. On Tuesday (August 16), such a heartbreaking scene took place in the premises of Shaheed Suhrawardy Medical College Hospital.
Hridoy (26) and Riya Moni (21) luckily survived the collapse of the flyover girders of the Bus Rapid Transit project on Airport Road on Monday (August 15) afternoon. They got married last Saturday. There was a wedding ceremony that day. Hridoy's father, Riya's mother, aunt, cousin and sister died in an accident on their way back from the event.
Hridoy said, "I and my father were in front. And behind were my wife and others. A box girder was hanging from a crane on Airport Road. We saw it from afar. One car after another was passing under it. I thought, we can go too. Whenever I crossed, the girder fell on the car. I was on the left side of my father, my wife was on the left side in the back seat. The rest, including my father, were on the right. They all died on the spot."
He said, "I was rescued easily with the help of locals. My legs were stuck. I was rescued easily by breaking the car window. My wife was completely stuck, it took a long time to get her out. They got me out in 10 minutes but it took half an hour to get my wife out. We have filed a case in this incident, we want justice."
Hridoy said, "I didn't think it would fall on us. Why do risky work on the road? Seeing that there was no risk, vehicles were moving there. All the cars are going, that's why we pulled the car in running. It fell on the car while crossing. Within two/one seconds the crane tilts. There could have been more cars. We want the government to investigate this incident so that such incidents do not happen again."