Bangladesh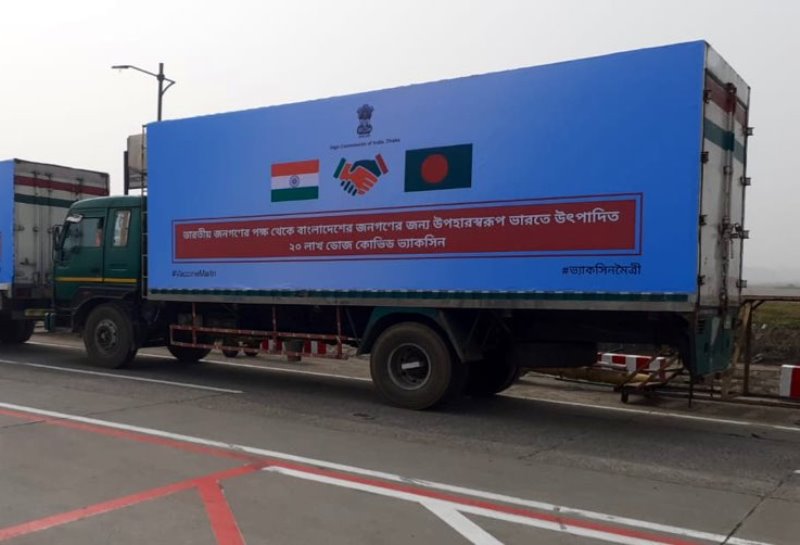 twitter.com/DrSJaishankar
Second shipment of Oxford-AstraZeneca coronavirus vaccine from India to arrive today
Dhaka, February 22: The second shipment of the Oxford-AstraZeneca coronavirus vaccine- Covishield- from India's Serum Institute will arrive in Bangladesh on Monday (February 22). Nazmul Hasan Papon, managing director of Beximco Pharma, a vaccine provider in the country, confirmed the information on Sunday.
However, he said that it has not been confirmed yet when the vaccine will arrive today as the flight schedule has not been finalised.
Nazmul Hasan Papon said, "Ekushey February is a public holiday in both the countries due to Sunday. I can be sure on Monday morning when the vaccine is coming to the country. But it is certain that the second consignment of vaccine is coming on Monday."
Earlier, after receiving the vaccine at Kurmitola General Hospital in the capital on February 15, he had told reporters that the second consignment of vaccines would arrive in the country on February 22.
"So far, we are thinking of bringing 3 million vaccines. The number of vaccines may be more or less depending on our demand. Because, there are still more than 6 million vaccines in stock. There will be no crisis with vaccines."
Incidentally, on November 5, the government of Bangladesh, Beximco Pharma and the Seram Institute of India signed an agreement to buy 30 million Oxford-AstraZeneca vaccines.
According to him, 5 million vaccines arrived in the country in the first consignment on January 25. But before that, on January 20, 2 million vaccines of the same company arrived in Bangladesh as a gift by the Indian government.
Asked about the second consignment of vaccines, Dr Shamsul Haque, line director of the health department's EPI program, told the Bengali Tribune: "Beximco has informed us that the vaccine may arrive on February 22. But so far we have not received any confirmation letter from them. We will be able to say when the confirmation letter arrives."