Bangladesh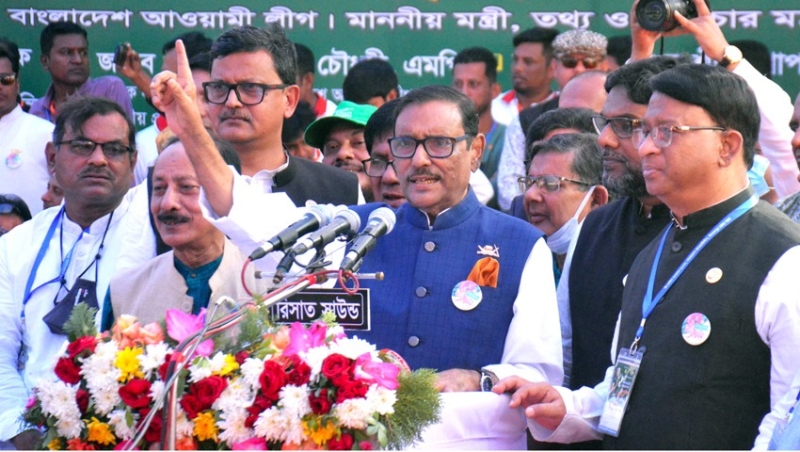 Collected
See Africa-Israel, no need to worry about Bangladesh: Obaidul Quader to US
Own correspondent, Dhaka, 28 September 2023: General Secretary of Awami League Obaidul Quader said, "Look at Africa-Israel, there is no need to worry about Bangladesh." He said this at the first meeting of the party's election manifesto drafting committee at the Awami League's central office on Thursday, September 28.
Obaidul Quader said, "You can't stop the rebellion in Africa for several days. You can't stop the bad boy Israel. Netanyahu doesn't listen. Why bother so much about our elections? Stop the war, see the big crisis, we need to worry about us. No. We don't want to be a superpower. And neither are we Venezuela."
He said, "We will make the election free and fair. Whatever we do, we will do it completely following the constitution. It will be the same as it is in other countries of the world. It is not our concern who came and who did not come. Who banned it is also our 'head.' "No. We will choose, the ban is not for us, ban those who will stop."
In response to a question about the government during the election, Obaidul Quader said, "It is the prime minister's prerogative whether the cabinet will be small or big during the election. If he wants, it can remain as it is like last time. We have nothing to do with it. The activities of that cabinet will be routine work. No major policy. Will not make a decision."
In response to the statement of BNP leaders, Awami League General Secretary said, "Mirza Abbas has seen Chandrat. What have you seen, some people have seen in Jhenaidah. Fakhrul said, we have to leave in October. I said, I am here this October, I will stay next October too. The people want us. A The Prime Minister of the country is holding on to the crisis with a strong hand, why should he be released? Think of his alternative. Is there an alternative to Sheikh Hasina? We have to think about that, and prepare the manifesto in that light."
About the manifesto, he said, "Who reads the manifesto? It should be done with care. Important points should be brought out with bullet points. No one has time to read dhaus kitab or huge books. Challenges of reality have to be overcome with time. Hard times ahead, singing the song of jasmine flowers. No use."
Quader said that Sheikh Hasina must be brought back to power to protect Bangladesh's democracy. If BNP comes, there will be no democracy.