Bangladesh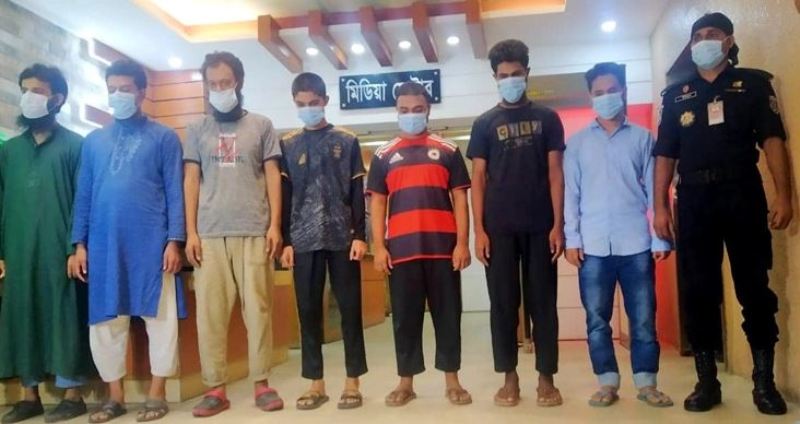 Collected
Seven arrested for 'terrorist involvement'
Dhaka, October 6: A total of seven people were arrested by the Rapid Action Battalion (RAB), including four who had left home for 'militant involvement'. The arrested are Hossain Ahmed, Md Nesar Uddin alias Umayer, Bani Amin, Imtiaz Ahmed Rifat, Md Hasibul Islam, Roman Shikder and Md Sabid.
During the arrest, RAB claimed that three types of pamphlets of the new militant organization, a booklet containing instructions for making explosives, the operating procedures of the new militant organization, 4 copies of the extremist book 'Nedaye Tawhider' and a tab containing jihadist extremism videos were seized from them.
According to RAB, those involved in militant organizations are interested in separating themselves from their families to prepare for armed attacks by inciting anger and resentment towards the country's constitution and law enforcement forces. Apart from this, young people were given theoretical knowledge on various issues including torture on Muslims. They were trained step by step. The destitute youths were given various trainings in armed attack, bomb making, physical exercise and militancy in various char areas of Patuakhali and Bhola at Safe House.
RAB Legal and Media Wing Director Commander Khandaker Al Moin said these things at a press conference organized at RAB Media Center in Karwan Bazar on Thursday (October 6).
He said that eight youths went missing from Comilla Sadar area on August 23. In this incident, a general diary related to the disappearance was registered at Kotyali police station in Comilla on August 25. The incident was widely reported in the media and created a nationwide sensation when it spread on social media. As a result, RAB increased intelligence surveillance in the rescue of victims of disappearances and the arrest of those involved. During the investigation, it was initially learned that they left home motivated by militancy.
In the meantime, on the basis of secret information, RAB took four young people into custody and returned them to their families while preparing to leave home on September 6. Following this, seven people were arrested from different areas of Munshiganj, Narayanganj and Mymensingh in the operation of RAB Headquarters Intelligence Wing and RAB-11 yesterday (Wednesday) night.
Commander Khandaker Al Moin said, among the eight youths missing from Comilla, Shartaz Islam Niloy (22) returned to his home in Kalyanpur, the capital, on September 1. RAB keeps the returning Niloy in the custody of his family and collects information about the remaining seven missing members and others involved.