Bangladesh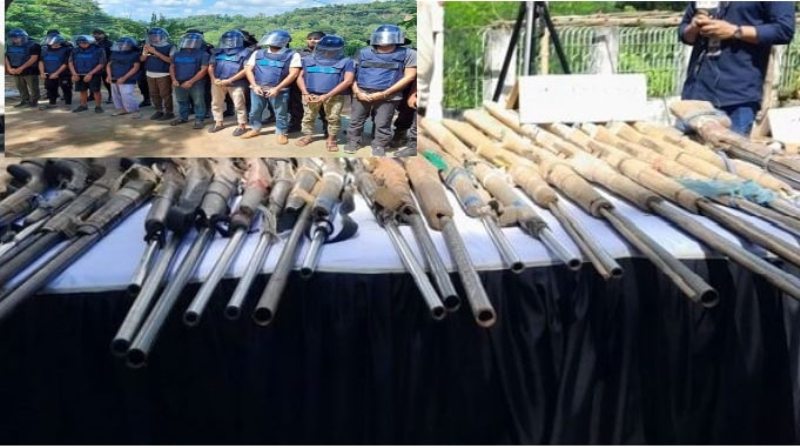 Collected
Seven arrested militants, three KNF members in jail
Dhaka, October 22: The court ordered the jailing of seven members of Jamaatul Ansar Fil Hindal Sharqiya and three members of the Kuki-Chin National Party (KNF) from the border areas of Bandarban and Rangamati. Judicial Magistrate Farzana Akhter of Rangamati Court gave this order at around 7 pm on Friday (October 21). Later they were sent to the district jail under police guard.
On October 20, seven members of Jamaatul Ansar Fil Hindal Sharqia and three members of KNF were arrested in RAB raids in the remote hilly areas of Bandarban and Rangamati districts of Chittagong Hill Tracts. They were brought to Sadar Upazila in Bandarban on Friday morning. In the afternoon they were brought to Rangamati under RAB and police guard. He was taken to court at 7 in the evening.
During the raid, 9 guns, 50 rounds of ammunition, 62 cartridges, 6 hand grenades, one cartridge, two cartridge belts, one indigenous pistol, one wakitki set, three chargers, 10 maps written by Kukichin and various equipment for making weapons and ammunition were seized.
In the press conference, RAB said that recently, an operation was started in the hills to catch the top leaders of the new militant organization 'Jamatul Ansar Fil Hindal Sharqiya'. Recently, in the name of newly so-called Hijrat (emigration or moving from one place to another) due to militancy, the homeless youth took shelter in hilly hideouts for Jamaatul Ansar. In these shelters, the young emigrants are trained in handling heavy weapons.
Recently, RAB published the list of 55 youths from 19 districts who were driven out of their homes in the name of voluntary migration due to extremism. The full names and addresses of 38 of them were published.
RAB also said that recently, some young militants are undergoing training without their homes in the remote mountains bordering India and Myanmar. The new militant organization is being trained by an armed group called 'Kuki-Chin National Front' (KNF).
RAB commander Khandaker Al Moin said that more than half a hundred militants of the organization are believed to be hiding in the mountains. He also said that the operation will continue until they are found completely.